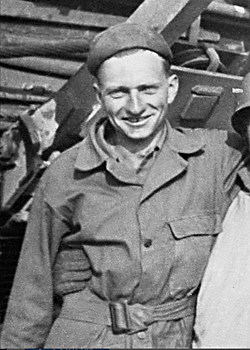 Wilfred E. Moles
Biography: Wilfred Edward Moles, "Will", was born February 7, 1920, in Belknap, Sanders County, Montana. He was one of five sons and one daughter born to Albert W. Moles and Sophia Clara Skierka. In 1941, he was living in Helena, MT, and was employed by Golden Messenger Corporation. His enlistment record indicates he completed four years of high school and was employed in the production of grain mill products.
Service Time: Will entered the Army on March 17, 1942, at Fort Lewis, Washington. He arrived at Company B, 607th Tank Destroyer Battalion, East Ord, California, on the 23rd of March. He was promoted to Private First Class on October 12, 1942 and Technician 5th grade on November 30th, 1942.
He eventually became a mechanic for the company and served on their T32 ARV (Armored Recovery Vehicle) which was a modified M4 Sherman tank. It carried the mechanics, their tools and parts, and was capable of retrieving tank destroyers that were stuck, broke down, damaged, etc.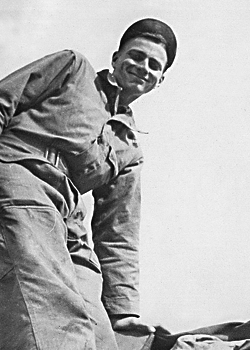 While they originally trained with M10 tank destroyers, the unit was converted to a towed battalion, utilizing the M5 3" gun, on December 15, 1943. Arriving at Liverpool, England, on 21 April, 1944, they continued training. Part of Headquarters Company and Company A disembarked at Utah Beach on June 17, with the remainder of the battalion arriving on June 23. They supported the advance on Cherbourg, fighting along the Seves River in July. Participating in the drive to Le Mans and envelopment of the Falaise Pocket in August, they advanced to the Moselle River in September and supported operations against Metz through November, converting to a self-propelled battalion equipped with M36 tank destroyers in time for the final assault.
Joining the drive toward the Saar River and capture of Saarlautern followed by the subsequent fight against the Siegfried Line in December. Deployed to the Ardennes sector in January, 1945 and again committed against the Siegfried Line in February in the Schnee Eifel. Supporting the capture of Koblenz in mid-March. they crossed the Rhine River at Boppard on March 25. The unit continued to drive east through Hessen and Thüringen during April and reached the Czechoslovak border near Plauen by mid-April. Thereafter, they remained in defensive positions until VE Day.
Like many men in the 607th, Will was transferred to another unit in the summer of 1945, moving to the 602nd Tank Destroyer Battalion on July 12th. He received the EAME, with credit for the campaigns of Normandy, Northern France, Rhineland, Ardennes-Alsace and Central Europe, American Theater, American Defense and Good Conduct Medals. Wilfred left the service at the rank of Technician 4th Grade.
After returning to the U.S., he married Agnes Smith on January 16, 1949. She was the daughter of Robert Wayne Smith and Mary Allis. The couple had two children, Barbara and Jim, and made their home in Terre Haute, IN. Will worked at the Federal Correctional Institute where he taught diesel and farm machinery repairs. He was a member of the Central Presbyterian Church, Veterans of Foreign Wars Post No. 972, Wayne Newton American Legion Post No. 346, Federal Prison Retirees Association, and NARFE (National Association of Retired Federal Employees).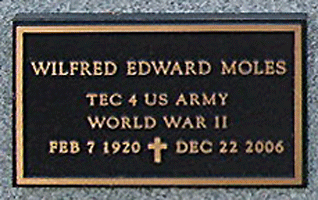 Wilfred passed away on December 22, 2006, and was buried in the Oak Hill Cemetery, Riley, Vigo County, Indiana. We would like to thank Find-a-Grave contributor Darrell for use of the grave marker photo.