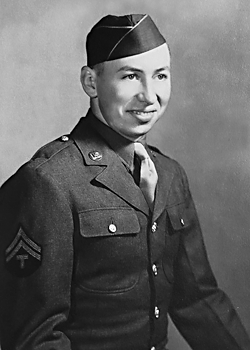 Arnold R. Malde
Biography: Arnold Roland Malde was born on July 23, 1920, in Poulsbo, Washington. He was the son of Rasmus Malde and Annette Fosen and attended North Kitsap High School, graduating in 1938. He then found a job as a printing apprentice with the Kitsap County Herald. He had also joined the C.C.C. (Civilian Conservation Corps) for some period of time.
Much of the following text concerning Arnold's early military service, is taken from his personal writings. A more detailed history of the unit is available here.:
After getting his parents permission, Arnold, and about 40 other volunteers, signed up for the National Guard on September 30, 1940, at Tacoma, WA. He was assigned to the 103rd Anti-tank Battalion and began close order drill training using farm fields in the Poulsbo, WA, area. They would eventually move to Tacoma and the Armory facilities located there to continue their training.
In February of 1941, they moved to Fort Lewis where they were provided with more permanent living quarters in the form of newly cleaned barracks. They had one 37mm anti-tank gun, which was towed by a 1/2 ton truck. This one gun was shared between each of the companies. They had no rifles and only the National Guard uniforms with old wash-basin style helmets. Arnold was assigned the job of bugler since he had played in the high school band but after his fourth bugle was run over, he was transitioned into other duties.
The 103rd began receiving draftees from other facilities, including Fort Ord, and Camp San Luis Obispo in California and later from Nebraska, Kansas and Iowa. The unit remained at Fort Lewis from February 1941 until July 1942, a period of 18 months. It was during this time that they would be issued old Springfield rifles and later, old British Enfields and they participated in full-scale maneuvers held by the IX Corps for the 41st Division in an area north of Fort Lewis. The maneuvers lasted about a week and consisted of much moving around and sleeping out in the rain, although Arnold states that sleeping was mostly just resting.
With the bombing of Pearl Harbor on December 7th, the entire battalion was put on alert and the 103rd would be tasked with patrolling the Washington coast to look for Japanese submarines. They would eventually return to Fort Lewis where they received their 75mm guns and were re-designated as the 803rd Tank Destroyer Battalion on December 12, 1941.
Service Time: As mentioned previously, Arnold and the 803rd remained at Fort Lewis until July when they moved to Camp Hood, Texas, where they remained for 6 months. While there, Arnold was relieved of his duties as a gunner for 3rd platoon of A Company and assigned to the motor pool as a dispatcher for the company vehicles. The unit was transferred to Fort Dix, New Jersey, believing they would soon be shipping overseas but they later traveled to Pine Camp, New York, and were issued M10 tank destroyers. They travelled back to New Jersey and Camp Kilmer for final preparations before shipping out. The 803rd departed for England on June 24, 1943, aboard the Queen Mary. Arnold would use his artistic talents to entertain the other soldiers, penning comics for his friends in the unit.
They spent 11 months in additional training and the final preparations and staging at Portsmouth, in southern England, before boarding transports and landing at Omaha Beach, Normandy, France, on June 13, 1944. They were equipped with M10s and helped capture St. Lô in July. Racing across northern France in August, they passed through Belgium and Holland before reaching the Siegfried Line in September. The unit supported operations north of Aachen in October, then transferred to the Hürtgen Forest, shifting to the Ardennes just before the German offensive began in December.
The 803rd was committed against the Siegfried Line again in early 1945, and converted to the M36 tank destroyer in February. Participating in the capture of Trier, they crossed the Rhine River on March 23rd at Oppenheim, and joined the elimination of the Ruhr Pocket in April, finally pivoting and marching southeast through Austria and into Czechoslovakia. The 803rd received credit for campaigns in Normandy, Northern France, Rhineland, the Ardennes and Central Europe.
After Arnold's Company A was broken up, he was sent to Furth, Germany, which was on the outskirts of Nuremberg. Arnold recalls that the town was not much more than a pile of rubble by the end of the war. Their duties included guarding the large displaced person camp and some leisure time. Later in the summer, they were sent to a replacement center near Augsburg and were assigned to the 28th Artillery Division, receiving both patches and artillery collar devises. While stationed in Bollinger, Germany, they received word that the war had ended with Japan and after a few more weeks, he was sent to Camp Lucky Strike, in La Havre, France, to wait for shipment home. He had a brief stay at Camp Chesterfield, before boarding one of the Liberty Ships, and after 10 rough days at sea, he arrived at Camp Shanks in New York. Arnold left the service at Fort Lewis, NY.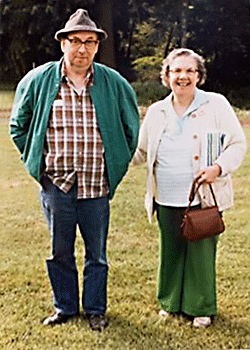 Arnold returned to Washington and went back to work doing printing and composition for a variety of newspapers, including the Silverdale Breeze, the Port Orchard Independent, the Seattle Post-Intelligencer and the Bremerton Sun. On June 10, 1951, Arnold married the former Musa Esther Wagoner who was born in Mankato, Kansas and was the daughter of Jesse and Clara Wagoner. Musa was a teacher and traveled to Bremerton in 1951 on an extended vacation. She met Arnold and married him that same year. The new couple made their home in Silverdale and had a daughter, Marianne, in 1953.
In his spare time, Arnold enjoyed painting, mostly landscapes, and was a voracious reader. He was a sportaholic and enjoyed all types of sports, particularly golf and was also a television addict. He was a member of the Allied Printing Trades Council. Arnold retired in 1981, giving him more for his hobbies.
Arnold passed away on April 2, 2002, and was buried in the Forest Lawn Cemetery in Bremerton, WA. I want to thank Arnold's daughter, Marianne, for providing the information and photos for this tribute as well as permitting us to post Arnold's history of the unit. Thank you also to Find A Grave contributor, Kahpo, for use of the grave marker photo.