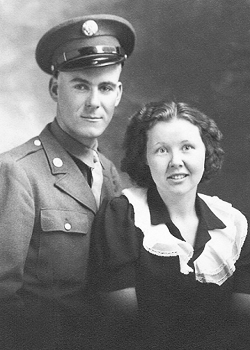 Albert L. McKinney
Biography: Albert Lee McKinney was born on June 17, 1920, in El Dorado Springs, Cedar County, Missouri. He was one of two children born to Lee Morgan McKinney and Katherine Francis Turner. His draft card indicates he was working as a farmer as of July 1, 1941.
On May 4, 1943, Albert married the former Dorothy Earnestine Long in San Luis Obispo, CA. She was also from El Dorado Springs and the daughter of Edward Long and Flossie Caroline Draelants.
Service Time: Albert entered in the Army on December 3, 1941, at Fort Leavenworth, Kansas. He was soon on his way to Camp Roberts, California where he completed basic training. On March 26, 1942, Albert was assigned to, and joined, Headquarters Company of the 607th Tank Destroyer Battalion which was stationed at Fort Ord, CA.
He trained with the unit at a number of locations including: Fort Ord, Camp San Luis Obispo, Hunter Liggett Military Reservation and the Desert Training Center, all in California, along with Camp Hood, Texas and Camp Cooke, CA. His MOS (Military Occupation Specialty-his job) was Light Truck Driver. While they originally trained with M10 tank destroyers, the unit was converted to a towed battalion, utilizing the M5 3" anti-tank gun, on December 15, 1943.
On March 28, 1944, Albert was transferred to Company C. Arriving at Liverpool, England, on April 21, 1944, they continued training. Company C landed at Utah Beach, Normandy, France on June 24th and the 607th supported the advance on Cherbourg, fighting along the Seves River in July.
On July 3rd, Private Albert L. McKinney was killed in action near Cretteville, France. Unit records do not provide any information as to what happened at that time. Sadly, two weeks after this, his daughter, Barbara Lee, was born. She never had the chance to know her father. He would have been awarded the WWII Victory and the EAME medals with credit for the campaign of Normandy. He was also posthumously awarded a Purple Heart Medal.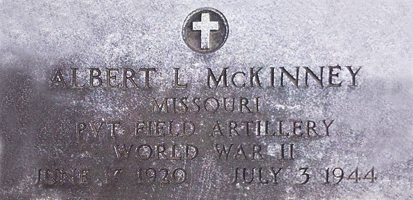 Albert was originally buried in Europe but in 1948, he was disinterred and brought home to be buried in the El Dorado Springs Cemetery, El Dorado Springs, MO. We would like to thank Albert for making the ultimate sacrifice for his county. We would also like to thank Albert's great niece, Tess Coale, for providing information and the photos used in this tribute.