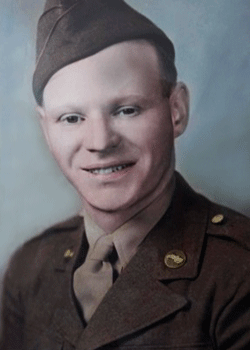 Donald Munroe
Biography: Donald Munroe was born on September 21, 1910, in Terra Nova, Nova Scotia, Canada. He was the son of David William Munroe and Bessie Ann MacCuish. His father worked as a carpenter and home builder and traveled with the family back and forth between Canada and Albany, New York, to find work.
They would later travel to Massachusetts, wherever the work was, and finally move there permanently in 1925. Donald attended and graduated from Hyde Park High School, located in Boston, MA.
Donald petitioned for naturalization on March 10, 1939, and became a U.S. Citizen on August 17, 1942. On October 12, 1940, He had married the former Mildred Hortense Talbot, who was born in Belfast, Maine, and was the daughter of Earl Littlefield Talbot and Bessie Irene Cross. Donald worked as a clothing cutter in the garment industry prior to the war.
Service Time: Donald entered the service on November 8, 1943, at Boston, MA. He was sent for basic training and stationed at Camp Hood, Texas, serving in the 4th Platoon, 4th Regiment of Company B, 138th Training Battalion. Very little is known about the operations of the training battalions but we know they were used to prepare soldiers for service in the tank destroyer forces. As far as we know, Donald remained at Camp Hood throughout the war and may have served some period as an instructor. We do know that he qualified as a Sharpshooter but the specific weapon is unknown. Donald left the service at the rank of Sergeant.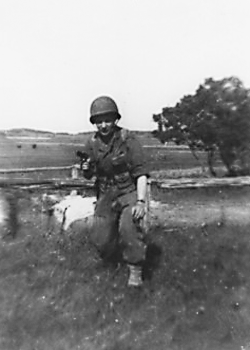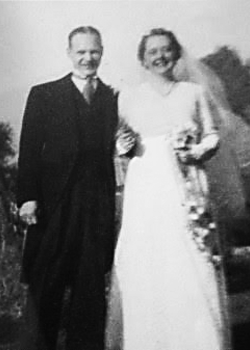 After returning home, Donald went back to work in the garment industry. The family remained in Hyde Park and Donald and Mildred would have two daughters, Faye, born in 1947, and Dawn in 1950. In his spare time, Donald enjoyed carpentry, badminton, tennis and serving in his church. He was a member of the Masons, the ALF/CIO and the United Presbyterian Church.
Donald passed away on April 1, 1983, and was buried in the Knollwood Memorial Park in Canton, Massachusetts. I want to thank Donald's daughters, Dawn and Faye, for providing the information and photos for this tribute.