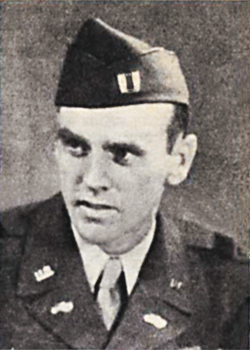 John J. McPhillips, Jr.
Biography: John Joseph McPhillips, Jr. was born on August 7, 1917, in Bellevue, Ohio. He was one of two sons and three daughters born to John Joseph McPhillips Sr. and Mary Catharine O'Brien. John attended Purcell High School in Cincinnati, OH, graduating in 1935. He played basketball with various class teams all four years and his yearbook indicates he worked at the Evanston Theatre in his spare time.
John's 1940, draft card shows he was employed by the Cincinnati Gas & Electric Company. His 1941, enlistment records lists he was working in the skilled mechanics and repairman occupation.
John married the former Dorothy M. Kloeb, who was from Cincinnati, OH, and was the daughter of Charles G. Kloeb and Marie A. Brigger. Their marriage application was submitted in May, 1943, and we believe they married shortly after that time period.
Service Time: John enlisted in the Army on March 5, 1941, in Cincinnati, Ohio. He was in the National Guard at that time but we don't know what unit. At some point, he was assigned to the 817th Tank Destroyer Battalion.
The 817th originally trained with self-propelled TDs but was converted to a towed battalion in June 1943. They trained at Camps Bowie and Hood in Texas and then moved to Camp Phillips, Kansas, and spent additional time at Camp Breckinridge and Fort Campbell, Kentucky, and Tennessee, where they remained during the Tennessee maneuvers. They also spent about five weeks assisting with the wheat harvest in North Dakota, mid-August through mid-September, 1943.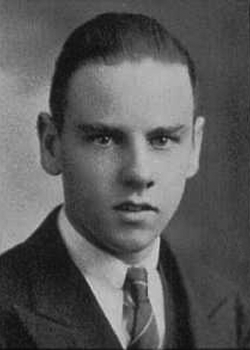 From there it was on to Camp Myles Standish, Massachusetts, in July, 1944, where they prepared for shipment overseas. They boarded the U.S.S. Mt. Vernon and sailed without any escorts to protect them, arriving in Greenock, Scotland, on July 31st to begin training for combat in France. They boarded LSTs (Landing Craft Tank) and landed at Utah Beach in Normandy, France, on August 25th.
On left is a photo of John, from his high school yearbook.
The unit took up rear-area security duties in France and Belgium and guarded COMZ (Communication Zone) from August to November. They entered battle in the Hürtgen Forest with the 8th Infantry Division on December 9th and shifted to the Ardennes in February, 1945, and then back to the Roer River sector to fire as artillery. Participating in the advance to the Rhine River with the cavalry, they crossed the river at Remagen on March 15th. They were the only towed TD battalion to enter the bridgehead.
The March, 1945, unit After Action Report lists 1st Lt. McPhillips as 2nd in command of Company B. Early that month, he became the Reconnaissance Company Commander. During the third week of the month, he became the Commanding Officer of Company B.
The 817th began conversion to M18 tank destroyers on March 26th and joined the 104th Infantry Division at the Ruhr Pocket in April. Two companies joined the drive eastward from Marburg in mid-April, fighting in the Harz Mountains and helped capture Halle and advanced to the Mulde River where offensive operations ceased.
John was awarded the WWII Victory and the EAME medals with credit for the campaigns of Northern France, Rhineland, Ardennes-Alsace and Central Europe. He left the military at the rank of Captain. He was also awarded a Bronze Star Medal.

After returning home, John went to work for the large-jet engine department of the General Electric Company. Over the years, he and Dorothy had two children, Maureen and John C. He passed away after a short illness on May 26, 1967, and was buried in the Gate of Heaven Cemetery, Montgomery, Hamilton County, Ohio.