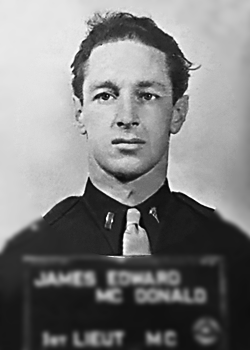 James E. McDonald, Jr.
Biography: James Edward McDonald, Jr. was born on February 9, 1910, in Cohoes, New York. He was the son of Dr. James Edward McDonald and Helen Kerley and attended St. Agnes School and graduated from Cohoes High School. He continued his education in the medical department of Union College in Schenectady, NY, receiving his B.S. in 1930. He additionally was commissioned as a first lieutenant in the United States Reserve Corps and was awarded the John M. Bigelow prize for the best examination in diseases of the nose and throat.
He then went to Albany Medical College, in Albany, NY, graduating in 1933, after which he began his medical residency at the Albany Memorial Hospital and also his own practice. On January 15, 1937, James married the former Mary Virginia Burgey, he had met at St. Peter's Hospital where she was working as a nurse. Virginia was born in Schenectady, NY, and was the daughter of William Dillion Burgey and Frances Edith Farrell. The new couple would make their home in Cohoes, NY and welcome a son, James III, born in 1938.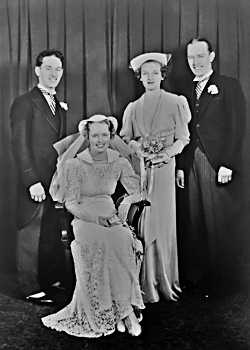 Service Time: James was called on to serve his country in the Medical Corps. He felt strongly that everyone should serve their country. He entered the Army on January 13, 1943, and was sent to one of the Medical Training Facilities within the U.S., where he received additional training in the principles and methods of Medical Field Service and to make him a better staff officer.
He shipped out from the U.S. on April 23, 1943, and arrived at French Morocco on the 28th. He was assigned to the medical detachment of the 701st Tank Destroyer Battalion and served with them in both Northern Africa and Italy. Portions of the 701st had already participated in the Operation Torch landings on November 8, 1942, near Oran, Algeria. They advanced toward Tunisia, beginning on November 16th and the rest of the battalion reached North Africa on December 10th. While in Tunisia, they were usually attached to the 1st Armored or 1st Infantry Divisions, and participated in actions at El Guettar, Faid Pass, Sidi Bou Zid, Sbeitla, Hill 609, and Mateur.
The 701st then shipped to Italy in October, 1943, and entered the line in the Pagnataro area. Their Tank Destroyers operated largely as artillery and for much of early 1944, the battalion was attached to II or VI Corps in the Cassino sector. They were then shipped to the Anzio beachhead in February, 1944, and supported the 1st Armored Division during their breakout in late May, entering Rome on June 4th. Pushing north to the Arno River, they crossed on September 1st and reached the Florence area.
James left the unit and shipped back to the U.S. on October 7th, arriving a month later on November 7th. He was assigned to medical facilities in both Oklahoma and then Fort Ord in Monterey, California. He was next assigned to Oliver General Hospital in Augusta, Georgia, which had a bed capacity of over 2200. In addition to general medicine, orthopedic medicine was considered one of their specialties. James left the service on September 17, 1946, at Fort Bragg, North Carolina. He received credit for two of the 701st's campaigns; Rome-Arno and Naples-Foggia. He also received the EAME Ribbon, American Theater Ribbon and WWII Victory Ribbon and the Distinguished Unit Badge. While serving overseas, he had been promoted to the rank of Captain.
James returned to New York and to Virginia and his home town of Cohoes. He reopened his medical practice and was a member of the medical staff of St. Peter's Hospital, Brady Maternity Hospital and Albany Memorial Hospitals, all located in Albany. He was also a staff member at Cohoes Memorial in Cohoes and Leonard Hospital in Troy. In addition to his duties as a physician, he was also a member of the Albany County Medical Society, the Rensselaer County Medical Society, the New York State Medical Society and the American Medical Association. In his spare time, he enjoyed hunting, fishing, skiing and was an avid golfer.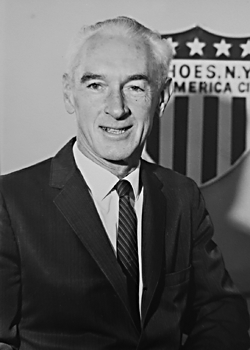 From January 1, 1964, until the date of his death on June 22, 1969, he served as Mayor of the City of Cohoes and was an active member of the Cohoes Citizens Party from it's beginnings. He followed in the footsteps of his father, who had also served as Mayor of the town in 1920-21.
He was also a committee member, chairman or on the board of many groups and organizations. He received the Capital District Newspaper Guild "Page One" award in 1965, and an award for Outstanding Community Service from the Albany County Catholic War Veterans in 1968. He also received the Cohoes Rotary "Outstanding Man of the Year" award in 1966-67, and is listed in the the registry of "Outstanding Civic Leaders of America"
As mentioned earlier, James passed away on June 22, 1969, and was buried in the St. Agnes Cemetery in Cohoes, NY. It is interesting to note that his wife Virginia was elected to fill his position as Mayor after his death and served for the next five years. Virginia was also the first female Mayor of the town. I want to thank James' granddaughter, Farrell, for providing the information and photos for this tribute.
The senior James' belief in service to his country was passed onto his son James III, "Jim", who joined the Navy right after college rather than go into his desired profession, engineering. He held the rank of LTJG and had almost completed his commitment to the military when he was injured in a skiing accident and died as the result.