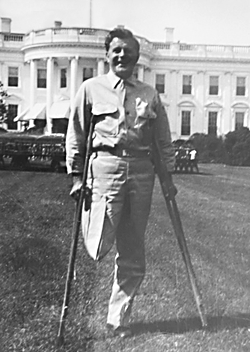 John A. Muzikar
Biography: John Alexis Muzikar was born on July 12, 1916, in Carteret, New Jersey. He was the son of Stephen Muzikar and Mary Doulinish and attended local primary schools and then the Irvington Vocational School, completing 2-1/2 years.
After leaving school, he worked as soda jerk and waiter, probably at the neighborhood drug store, but his military records indicate he also had experience as a longshoreman.
Service Time: John entered the service on July 9, 1942, at Newark, NJ, and after his basic training, he was assigned to Company A of the 773rd Tank Destroyer Battalion. The unit had moved to Camp Shelby, Mississippi, for four months of training followed by a move to Indio, California and the Desert Training Center. They remained there from September through October and then departed for Camp Hood. Texas, the home of the Tank Destroyers.
Training continued there until April of 1943, when they moved to Camp Atterbury, Indiana. They were ordered to Tennessee in June, for their fourth large scale Army Maneuvers, this time with the Second Army. The unit returned to Camp Atterbury and on the January 15, 1944, they moved to New York. A short but busy stay at Camp Shanks, NY, preceded embarkation on the British liner, Aquitania. During his stateside training, John qualified as a Marksman with the carbine, 50 cal. machine gun and rifle. His military occupation is listed as machine gunner, light.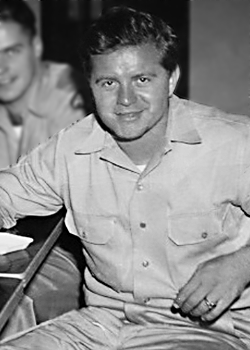 The 773rd arrived at Gourock, Scotland, on February 7, 1944, and after many additional months of training, they boarded transports and landed at both Utah and Omaha beaches in Normandy, France, on August 8th. The unit was equipped with M10 tank destroyers and saw their first real action at Le Bourg St. Leonard, supporting the 90th Infantry Division, during envelopment of the Falaise Pocket.
The photo on left shows John sitting in a restaurant with a few other soldiers. At least a few of them are also TD soldiers. The full image can be seen in the Unit Gallery. The image was probably taken just prior to the unit shipping overseas.
It was on the 17th that Company A moved into firing positions south of Le Bourg St. Leonard. During the entire move the unit was under artillery fire and they were ordered to capture the road South into the town. They were forced to leave the road using a trail to the East to accomplish their mission. Company B and C made their own advances to take the town. Company A, with elements of Company B and 1st Battalion of the 359th Infantry, advanced to attack St, Leonard with very heavy concentrations of artillery and mortar fire falling on them. Company A knocked out five Mark IV enemy tanks with two men killed and twelve wounded. It was during these actions that John received shrapnel injuries to his right leg and he was sent to the 103rd Evacuation Hospital. After six days of treatment, his injuries were determined to be too severe and his leg needed to be amputated. In recognition of his wounds, he received the Purple Heart while at the 187th General Hospital on August 31st and was shipped back to the U.S., spending extended periods of time at England General Hospital in Atlantic City, NJ and Walter Reed Hospital in Washington D.C., recovering from his injuries.
The 773rd received credit for four campaigns and also received a DUC (Distinguished Unit Citation) for actions from August 17-22, 1944, as part of the 90th Infantry Division, in the vicinity of Le Bourg St. Leonard, Chambois, France,. This is the same location and action where John was injured and he also received the award. In additional to the Purple Heart and the Distinguished Unit Badge, he also received the EAME Medal with credit for the Northern France campaign and the WWII Victory, the American Campaign and the Good Conduct Medals. He was discharged from the Army on November 25, 1946, from Walter Reed Hospital, at the rank of Private First Class.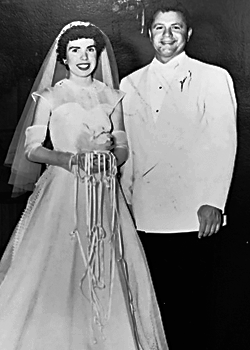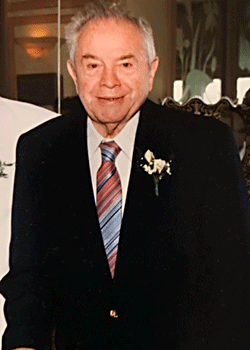 John returned home and was determined to continue his education, attending Drake Business College, where he would meet his future wife. He first worked as a bookkeeper for the Union Carbide company but later worked for a ShopRite food store. On June 22, 1952, he married the former Elizabeth Gilchrist, who was born in Kearny, NJ, and was the daughter of James Gilchrist and Elizabeth Leckie. The new couple would initially make their home in Bloomfield NJ and then later live in North Arlington. Their family would grow to include two children, a daughter, Joanne born in 1956, and a son Anthony in 1969. John retired from ShopRite in 1977, which provided more time for his spare time activities, which included watching sports, especially boxing, playing pool and cards and spending time outside sitting in the sun. He would take a folding chair with him in the car so he could set it up and enjoy the sunshine wherever he went, which was probably an activity he began during his many months of recuperation.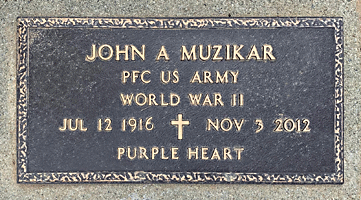 John passed away on November 3, 2012, and was buried in the Forrest Green Park Cemetery in Marlboro, NJ. I want to thank John's son, Anthony, for providing the photos and information for this tribute.