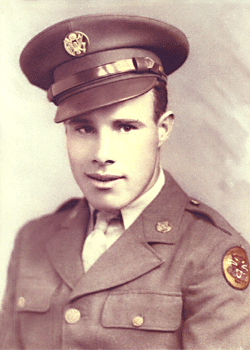 Archie D. Millican
Biography: Archie Dean Millican was born on February 16, 1922 in Cullman County, Alabama. He was the son of William Hopkins Millican and Cora Catherine Taylor and attended Vinemont Junior High and then Cullman County High School through the 11th grade. While in school, he played forward position on the basketball team.
He continued his education at a government welding school in North Birmingham and later did welding in the shipyards, including in Decatur, AL, which is along the Tennessee River. His enlistment record indicates he was working in the Alabama Dry Docks in Mobile, AL, just prior to the war.
Service Time: Archie entered the service on October 10, 1942, at Fort McClellan, AL. He was sent to Camp Hood, Texas, for his basic training and at its completion, he and the other men were loaded on a train and taken to Camp Gruber, Oklahoma. The men never got off the train, but picked up additional men and traveled right back to Camp Hood where they repeated their training. Some portion of these men would become the 825th Tank Destroyer battalion and continue to train at a number of facilities, including Camps Bowie and Hood, Texas, and Camp Phillips, Kansas.
The 825th was originally trained with self-propelled tank destroyers but in July of 1943, they were reorganized as a towed battalion utilizing the 3″ anti-tank gun. Due to the critical shortage of civilian workers, the unit was sent to Fargo, North Dakota, to assist with the harvesting of the wheat crop. Their work produced enough wheat to supply a loaf of bread to every man, woman, and child in the United States.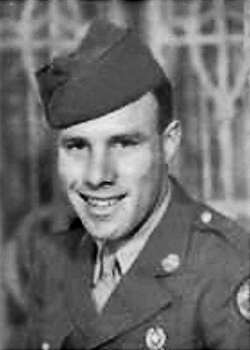 The 825th continued their training back at Camp Phillips, but moved to Galatin, Tennessee, to participate in winter maneuvers held in designated areas throughout the state. Archie determined that he was going to become a gunner, which required him to set up the gun for firing, per the commander's directions. He became very proficient and regularly was able to travel (hitch-hike) home on leave because he had won a weekend pass for his accuracy in their weekly shooting contest.
They proceeded to Camp Campbell, Kentucky, in January 1944, and remained there until March, when they were sent to Camp Breckinridge, Kentucky. On May 25th, they boarded trains and arrived at Camp Kilmer, New Jersey, in preparation for shipment overseas. They left the New York port on May 30, 1944, aboard the Queen Elizabeth and arrived in England on June 5th.
Archie related a story about their time in England. His crew and one other were sent to Wales, and told to set up their guns for indirect firing. They were given coordinates and fired their guns, only learning later that they had sunk an enemy ship. They received orders for France and boarded transports, arriving in Normandy on July 23rd, where they were initially assigned to the Communications Zone of the 12th Army Group and took on security duties between August and December, 1944. On December 17th, the battalion entered combat near Malmedy, Belgium. Archie related a story of how his team used their gun to take out snipers. He received a reprimand from his commander for wasting their 3″ ammo on such a small targets. On two other occasions, Archie disabled enemy trains using high explosive shells. One of the trains was traveling between Jemelle and Jemeppe, Belgium, and was estimated to be between 600 and 800 yards away. It only took two shots to stop the train in its tracks.
It was during their time in Rochefort, Belgium, on December 24th that his team had been forced to pull back, leaving their gun. Archie stayed behind and single-handedly disabled two German tanks. During the action, he was wounded in the leg but remained in his position, holding off the enemy for 15 hours, while completely exposed to enemy fire.
Beginning on January 16, 1945, the unit returned to security duties. The 825th received credit for the campaigns of Northern France, Rhineland, Central Europe and Ardennes-Alsace. Archie received the Purple Heart for his wounds in Belgium and was awarded the Bronze Star. He was discharged on November 20, 1945 at the rank of Sergeant.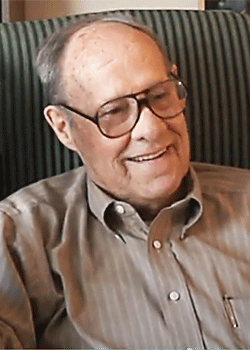 When Archie returned to the U.S., he found work with the Rheem Company welding water heaters. In 1947, Archie married the former Myrtice Frances Hay, who was born in Bayview, AL, and was the daughter of William Henry Hay and Myrtice Brooke. The new couple would make their home in Birmingham, AL. He later worked as a welder at coal mines owned by U.S. Steel and retired in 1984. The couple would have one son, Wayne. Francis passed away and Archie would later marry Lessie Clark. Throughout his life, Archie was a fan of the Alabama Crimson Tide football team and was also a Mason.
Archie passed away on March 26, 2008, and was buried in the Crestview Memorial Gardens in Adamsville, AL. I want to thank the Millican family and Serge Lemaire for their assistance with this tribute.
At some time before his passing, Archie did an interview with the Birminghim News, which has since been posted on YouTube. You can hear Archie relate some details about his life as well as his military service at the following link:
Interview by the Birmingham News