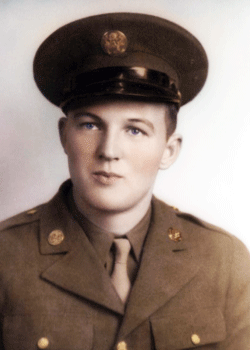 Donald C. Marsing
Biography: Donald Carl Marsing, "Don", was born on July 21, 1925, in Duchesne, Utah. He was the son of Carlos Batrum and Thenelda Powell Marsing and attended local schools through the 11th grade. He spent much of his youth working on his aunt's farm and cattle ranch. He particularly enjoyed the annual cattle roundup during his time there and continued to help with it even later in life.
On September 1, 1943, Don married the former Elorn Krebs in the LDS (Latter-Day Saints) Temple in Salt lake City, UT. Elorn was born in Ioka, UT, and was the daughter of Robert Wade Krebs and Zina Marie Webb.
Service Time: Don entered the service on January 8, 1944, at Fort Douglas, Utah, and after his initial and more advanced training within the U.S., he shipped overseas, arriving on February 1, 1945, as a replacement. He was assigned to Company A of the 825th Tank Destroyer Battalion, which had been overseas since May of 1944. It was during his training that Don qualified as an Expert with the M-1 Rifle and also received his Driver and Mechanic Badge.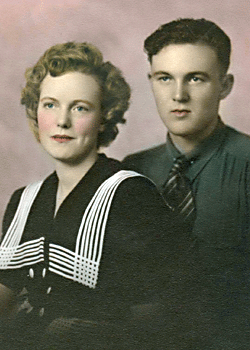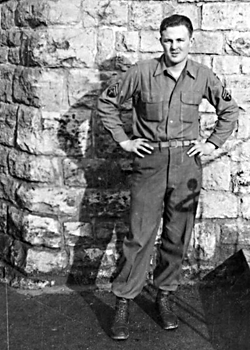 The unit 825th had been initially assigned to the Communications Zone of the 12th Army Group and took on security duties between August and December, 1944. On December 17th, the battalion entered combat near Malmedy, Belgium. Beginning on January 16, 1945, the period when Don would have joined the unit, they had returned to security duties. The unit finally ended their service in Wiesbaden, Germany, in facilities that were affectionally renamed Fort Mieding, after their commanding officer, Lt. Col. Rudolph H. Mieding.
Don recalled that on one occasion, while he was serving as a driver of a tank destroyer, they were moving into a town that was supposed to have already been taken. As they advanced, a hand grenade was thrown into the turret and only Don and the assistant driver survived. He was hit in the leg and back by shrapnel but was able to return to duty after treatment.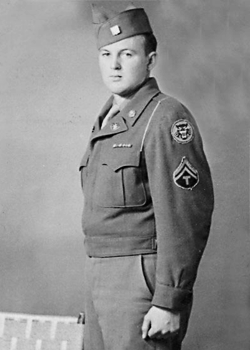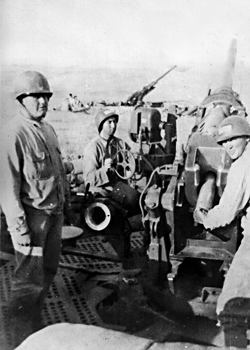 In the photo above right, you can see Don, on the far right, loading the gun.
Now that the war in Europe had ended, men with higher points were sent home for discharge. Lt. Col. Mieding took command of the 630th Tank Destroyer battalion and we believe at least some of the men with lower point totals were transferred to the 630th as well. Don seems to have spent some time in the 893rd TD Bn driving a large wrecker truck but he was ultimately transferred to the Headquarters Company of the 630th Tank Destroyer Battalion and remained in Germany as part of the occupational forces. Their new mission was to exercise military control and maintain law and order. Don became part of this law-keeping force and recalled visiting a number of the concentration camps in their area of patrol. The atrocities he saw affected him deeply and the memories remained with him throughout his life. He would later serve as a prison guard in Schwabisch Hall, located between Stuttgart and Nuremberg, Germany, which held some former SS troops.
He was able to return to Wiesbaden at least once after being stationed there at the end of the war. The photo below shows him posing for a photo at the Fort Mieding sign.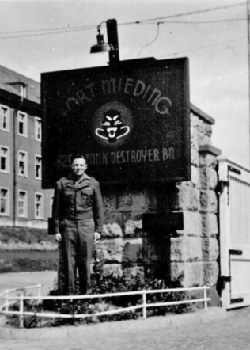 Don and other men gathered in Bad Mergentheim, Germany before moving to Antwerp, Belgium, to board the USS Zanesville and shipped home on March 20, 1946. They arrived back in the U.S. on the 30th. and Don was discharged on April 7th from Fort Douglas, UT, at the rank of Technician 5th Grade. He received credit for the campaigns of Rhineland and Central Europe. He was awarded the EAME, American Theater, WWII Victory and the Good Conduct Medals.
After returning home, Don worked at a number of places including the U.S. Forest Service, the Union Pacific Railroad and both the Paramount and Orpheum Theaters. One of his greatest joys was working at the LDS Temple in Ogden and for 18 years he was employed there as a supervisor over the Temple maintenance. He was also a very active member of the LDS Church, serving in a number of positions, including as a counselor in two bishoprics (districts) and as a dedicated Home Teacher. He and Elorn would have a daughter, Linda, and two sons, Carl and Dennis. In his few spare moments, his love of the outdoors would take him fishing and hunting.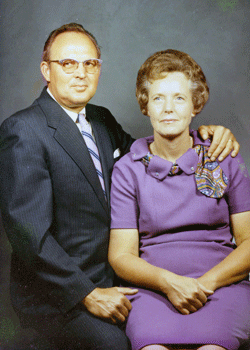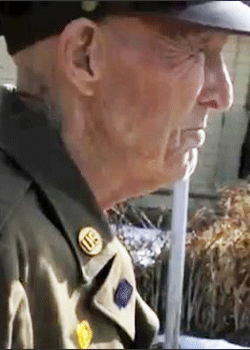 Don passed away on April 18, 2010, and was buried in the Washington Heights Memorial Park in South Ogden, UT. I want to thank the Marsing family for providing the information and photos used in this tribute. I also want to thank Find A Grave contributor Don Calhoun for use of the grave marker photo. Thank you to Serge Lemaire for contacting the Marsing family and all of his research to honor these men.