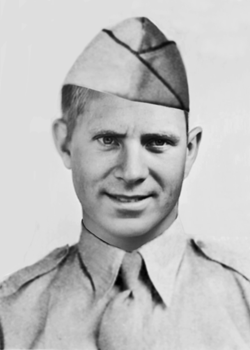 Edward A. McKinley
Biography: Edward Austin McKinley was born on October 13, 1914, in Bridgewater, Massachusetts. He was the son of Alexander McKinley and Jane "Jennie" Watson and attended local schools through the 9th grade. He then worked as a carpenter for Tibbetts Construction in East Bridgewater, MA.
In 1939, Edward married the former Janice Keith who was born in Bourne, MA and was the daughter of Florence Newton Churchill Keith. The couple would make their home in Bridgewater, MA, and have a daughter Diane, born in 1940, and a son Larry in 1942.
Service Time: Edward entered the service on February 10, 1942 at Ft Devens, MA. He was sent to Pine Camp, New York and assigned to Company A of the 704th Tank Destroyer Battalion.
He received received additional training with the unit at Camps Hood and Maxey, Texas, and was finally sent to Camp Miles Standish, Massachusetts, for final preparations before going overseas.
The unit shipped out from the Boston port on February 27, 1944, and arrived in Liverpool, England, on March 13th. For the next four months, they received additional training in the United Kingdom. They then boarded LSTs and landed at Utah Beach on July 12th and 13th. They were first unit in the ETO (European Theater of Operations) to be equipped with M18 tank destroyers and participated in the Cobra breakout at the end of month. They advanced into Brittany and then raced east across France, passing north of Orleans, crossing the Moselle River to Luneville in early September. They remained in the general area through October.
The 704th fought in the Morhange region in November and crossed the Saar River by month's end. They were deployed to the Ardennes on December 19th and fought around Bastogne in January, 1945. They then moved back south, advancing into Germany near Sinz in February, fighting through the Siegfried Line and into the Saar-Moselle triangle. Supporting the drive to Bitburg in March, they reached the Rhine River by mid-month. Crossing the river on March 24th at Nierstein, the unit roared east to Gotha by April 4th, and passed through the Harz Mountains to Bayreuth, in late April. The unit finally entered Czechoslovakia at Volyne on May 6th and the war ended two days later
The 704th received credit for campaigns in Normandy, Northern France, Rhineland, the Ardennes and Central Europe. Edward left the service at the rank of Technician 5th Grade.
Now back in the U.S., Edward and Janice would have a second daughter, Helen, born in 1946. Little is known of Edward's life after the war but we do know that he passed away on May 20, 1960, and was buried in the Mount Prospect Cemetery in Bridgewater, MA. I want to thank Edward's granddaughter, Lariann, for providing the information and photo used in this tribute.