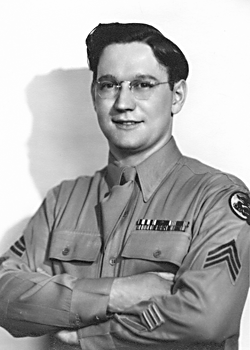 Harold J. Moots
Biography: Harold Jerome Moots was born on September 17, 1920, in Dayton, Ohio. He was the son of John Harold and Myrtle Moots and graduated from Stivers High School. He then worked as a meter reader for DP&L (Dayton Power and Light).
Service Time: Harold entered the service on August 17, 1942, at Cincinnati, OH. After his basic training, he was assigned to Company C of the 634th Tank Destroyer Battalion. The 634th was activated on December 16, 1941, at Camp Claiborne, Louisiana, but in 1942, they trained at Camp Hood, Texas, and participated in the fall Louisiana Maneuvers before returning to Camp Claiborne.
In 1943, they were equipped with the M10 Tank Destroyer and shipped to England on December 29th, arriving on January 10, 1944. While there, they received additional training before landing on Utah Beach in Normandy, France, on June 30th. They were committed to battle on July 10th near Carentan and participated in the Cobra breakout in late July. Their widely separated elements helped capture Mayenne and defeat the Mortain counteroffensive in early August.
The 634th then raced east to Mons, Belgium, and supported operations against the Siegfried Line and the capture of Aachen, Germany, in October. They fought in the Hürtgen Forest in November and then moved to Belgium in December, only to race south to the Ardennes in late December. they crossed the Roer River on February 25, 1945.
It was the next day, February 26th, that C Company was in the vicinity of Drove, Germany when they encountered both small arms and artillery fire. Sgt. Harold J. Moots guided his M10 to an exposed ridgeline, a position that allowed him to direct suppressive fire and force the enemy's withdrawal. During the action, his TD was hit by an 88mm round causing severe shrapnel wounds to his right leg and behind his right eye. He also received burns to his hands, face and forehead. In addition to Harold, several of his crew also received minor injuries. For his actions, Harold was awarded the Silver Star. His citation reads as follows:
Harold J. Moots, 35469111, Sergeant, Company C, 634th Tank Destroyer Battalion. For gallantry in action in the vicinity of Drove, Germany, 26 February 1945. When the enemy launched a savage attack, Sergeant Moots, despite an intense self-propelled, small arms and cannon barrage, fearlessly directed a vehicle across perilous terrain to an exposed vantage point. Then, although painfully wounded, he skillfully placed fire upon hostile tanks and compelled the Germans to withdraw. Sergeant Moots' gallant actions and exemplary leadership reflect great credit upon the Army of the United States. Residence at enlistment: Dayton, Ohio.
The 634th continued to push to the Rhine River, reaching Bonn by March 9th, and crossed at Remagen on the 15th, supporting the envelopment of the Ruhr Pocket. They then moved east to the Harz Mountains in early April and drove 200 miles to the Czechoslovak border by April 28th. The unit received credit for campaigns in Normandy, Northern France, Rhineland, the Ardennes and Central Europe.
Harold was shipped home for additional treatment and rehabilitation. In addition to the Silver Star, he also received the Purple Heart with Oak Leaf Cluster in recognition of his wounds, along with the EAME, WWII Victory, American Theater and Good Conduct Medals. He left the service at the rank of Sergeant.
Harold continued his education at the University of Dayton, graduating in 1953. That same year, he married the former Mary Jane Mack, who was born in Dayton and was the daughter of Lloyd M. Mack and Nell W. Rose. Harold returned to DP&L but this time as an accountant. The new couple would have three children, Harold Jr., born in 1956, Jane in 1957, and Bonnie in 1959. In his spare time, Harold enjoyed building model airplanes. He was also a member of the Disabled American Veterans organization.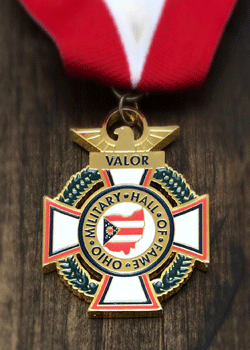 Harold passed away on January 12, 1999, and was cremated. I want to thank Harold Jr. for providing the information and photos used in this tribute.
In 2008, Harold was posthumously honored by his induction into the Ohio Military Hall of Fame. Harold Jr., who also served in the military, was in attendance to accept the Ohio Medal of Valor on behalf of his father. Harold Jr. served for almost 24 years in the Marine Corps as a CH-53 helicopter mechanic and crew chief. He retired at the rank of Master Sergeant. Thank you both for your service!