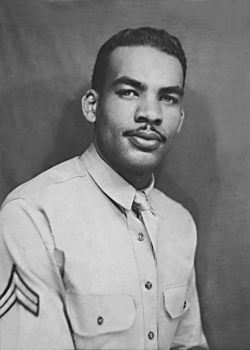 Gordon B. McGinnis
Biography: Gordon Brown McGinnis was born on March 4, 1919, in Ridgeway, Ohio. He was the only son of four children born to Blaine McGinnis and Nora Ethel Brown and graduated from local schools.
He then worked as a farm laborer and prior to the war, was working for F.H. Mitchell.
Service Time: Gordon entered the service on January 22, 1942, at Fort Hayes in Columbus, Ohio and after his basic training, he was sent to the Infantry Replacement Training Center at Camp Wolters, which was located in Mineral Wells, Texas. He was then sent to Camp Carson in Colorado where he was assigned to the Headquarters Platoon, Company B, of the 614th Tank Destroyer Battalion. He trained with the unit at various military facilities and participated in the Louisiana maneuvers, which were large-scale military exercises.
The photo above left was taken on June 19, 1942, and was labelled with the name "Bud", which we believe may have been Gordon's nickname.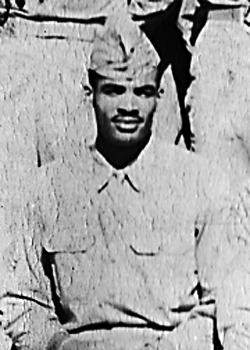 The unit had been activated on July 25, 1942, at Camp Carson, Colorado as a self-propelled unit utilizing half-tracks with 75mm guns. In May of 1943, they were reorganized as a towed battalion due to the poor showing of the self-propelled units early in the war. While with the unit, he was promoted to Sergeant.
The photo at left is Gordon as part of B Company, while the unit was stationed at Camp Hood.
The 614th shipped out from the New York port on August 27, 1944, and arrived in England on September, 7th. In just a month, they were loaded on transports and sailed for Normandy, landing on the Utah beachhead beginning on October 8th. The unit and their 3″ guns were deployed to Metz and supported operations against the nearby Siegfried Line in November and December. They then shifted to Hagenau Forest area and continued to support operations against Siegfried Line fortifications until late March, 1945.
The unit then performed occupation duties in early April, before joining the race to Innsbruck, Austria, and Brenner Pass. The 614th received credit for campaigns in Northern France, Rhineland the Ardennes and Central Europe.
We have a limited amount of information about Gordon after the war but we do know that he returned to Ohio and married the former Beatrice B. Porter, who was born in Elberton, Georgia and was the daughter of Harry Porter and Marie Panchal. The new couple made their home in Ridgeway, OH. Their relationship would end and he later married the former Juanita Hall, who was born in Kenton, OH, and was the daughter of William E. Hall and Flossie Brown. The new couple would make their home in Bellefontaine, OH.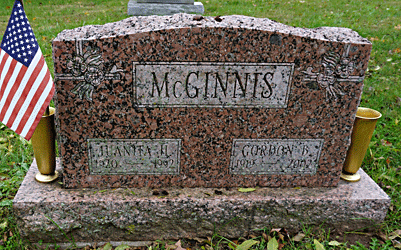 Gordon passed away on June 1, 2002, and was buried in the Ridgeway Cemetery in Ridgeway, Ohio.
I want to thank Find A Grave contributor Rebecca Johnson Oldham for the use of the grave marker image. I also want to thank the SPCOUTA (Special Collections of the University of Texas) for providing information used in this tribute. You can find out more about SPCOUTA at the following link.