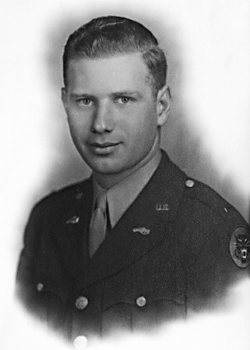 Leonard J. Michaels
The following biography was written by Leonard's grandson Damon Pressman and although it is condensed from his 90-page original version, it is somewhat longer than our usual tributes. I'm sure you will enjoy Damon's research and the additional details he has been able to include.
Biography: Leonard Jay Michaels was born on April 9, 1921, in Brooklyn, New York. The middle child of Alexander Hugo and Ethel 'Belle' (Naidis) Michaels, he grew up with older brother Robert 'Bob' and younger sister Marjorie 'Marge'. His father Alexander, who was always known by his middle name Hugo, ran his own luggage and leather goods store in Downtown Manhattan. Bob and Leonard would help out in the store and from a young age they aspired to take over the business someday. However, during the Great Depression the store was lost.

In 1934, the Michaels family packed up and drove cross-country to seek better fortune on the West Coast. They settled in Los Angeles, where Belle's family already lived. Leonard was 13 at the time of the move and months earlier had graduated from elementary school. Once settled in Los Angeles, Hugo and Belle established a new luggage and leather goods store, Bon Voyage Bazaar in Beverly Hills, and Leonard started attending James Foshay Junior High School.

At Manual Arts High School Leonard enrolled in the ROTC and rose to the rank of 2nd Lieutenant. He graduated high school in 1938, and in 1939 joined Omega Tau Alpha military fraternity as a Lieutenant. Other than his time in the ROTC, it doesn't appear that Leonard had any military aspirations. A place in the family business secured, Leonard did not pursue college and joined his father and brother as a salesman in the store.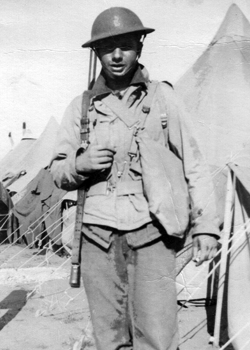 In April 1942, four months after the attack on Pearl Harbor, Leonard turned 21 years old. Two weeks later, he enlisted in the United States Army as a Private on April 22, 1942. Initially, he was assigned as an ammunition handler and attached to Company F, 2nd Battalion, 301st Ordnance Regiment, based at Camp McCoy, Wisconsin. However, it isn't clear that he actually traveled to Wisconsin for his basic training. On May 22nd, one month after enlisting, Leonard reported for induction into the Army.

Within a month, Leonard had been promoted to Private First Class (PFC), per General Orders No. 1, Company T of the 301st. He was in basic training at Camp Sutton, outside Monroe, North Carolina. On June 27th the Regiment poses for a group photo, canvas tents visible behind them. Leonard is standing in the back row, his trademark crooked smile visible amongst the many stern-faced men.

Eight months after enlisting, Leonard was given leave from his training at Camp Sutton and traveled cross-country back to California for a holiday furlough. After returning from his furlough, he reported as an officer candidate to the Tank Destroyer School at Camp Hood (today Fort Hood) in Texas. Starting on February 1st, 1943, he studied tactics, weapons, military law, company administration, map reading, and firing weapons.

On April 22nd, one year since he enlisted in the Army, Leonard was discharged to accept a commission. On April 30th, having completed Tank Destroyer School, he graduated with the Officer Candidate Class #27. Having earned his Second Lieutenant bars, he entered active duty with the U.S. Army the same day as his graduation, and was assigned as a Platoon leader for the 134th Tank Destroyer Training Battalion.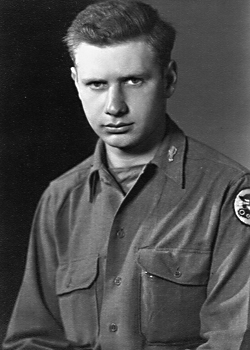 In June, he started the Officer's Pioneer Course at Camp Hood, where he studied map reading, rigging, demolition, and engineering tools. Upon completion of the course six weeks later, he was appointed the commanding officer of Company 'C' in the 653rd Tank Destroyer Battalion.

His activities in the summer and fall of 1943 are unknown to us. However, we do know that in this period Leonard met the young woman who would eventually become his wife.

As she would often mention, Vicki Michaels grew up as an 'Army Brat', being born and raised on military bases her entire life. Her father, Colonel Louis Zuckerman, was a career Army man. He enlisted in the U.S. Army in 1916, during The Great War, and served in the 1st Machine Gun Battalion with the American Expeditionary Force. He spent nearly two years in France and continued his career with the Army upon his return. In 1922, the Army assigned Colonel Zuckerman to the headquarters of the 11th Field Artillery, located at Schofield Barracks in O'ahu, Territory of Hawaii. Fearful that he would marry a 'native' girl, his Jewish family hastily arranged an introduction to Anna Brodsky, through a connection with her brothers in August 1922. Louis and Anna were married on September 26, and departed for Hawaii on October 28th.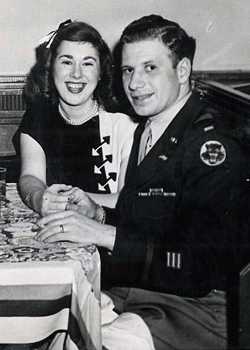 Violet Goldie Zuckerman was born on August 26th, 1924 at Tripler Army Hospital outside Honolulu. Violet, who preferred to go by the name Vicki was raised on the base in Hawaii until 1936, when Louis and family were transferred to Fort Lewis, Washington State, where they would stay until he was transferred in mid-1942 to Fort Benning in Columbus, Georgia. Vicki and Lee completed high school in Columbus and Vicki then worked as a teletype operator for the U.S. Army Signal Corps.

Per Vicki's telling of the story, she met Leonard one Friday night at a nightclub in Alabama. She took notice of a tall, lean Army officer wearing a crisp uniform, but she was most struck by his golden-red hair, which made him stand out in the crowd. She was further amazed to find out that he was Jewish, a rarity not only in the Army, but certainly in the Deep South.
As the military prepared personnel to fight overseas, there wasn't much time for dating, but Leonard and Vicki spent as much time together as they could. Leonard continued his training and qualified as a marksman with a .45 caliber pistol and M-1 rifle, and as a sharpshooter with a Carbine.

On New Years' Eve, December 31, 1943, Leonard and Vicki became engaged. In April 1944 Leonard turned 23 years old and nears two years in the Army. On April 12th, Anna Zuckerman, Vicki's mother, and soon-to-be mother-in-law to Leonard, died in Columbus on her 46th birthday.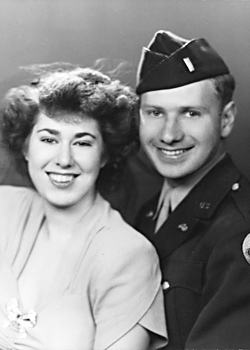 With Leonard scheduled to depart soon for Europe, the couple traveled to Los Angeles, arranging an austere war-time wedding. Her father accompanied her mother's body to Washington D.C, where she was buried at Arlington National Cemetery. On April 30th, Leonard and Vicki were married in the living room of Hugo and Belle's Los Angeles duplex.
Then, the couple traveled by train to the East Coast, through Fort Benning, Washington, D.C., and finally New York, where Leonard re-joined the Army. On June 6, 1944, the same day of the Normandy Invasion in France, Leonard boarded the R.M.S. Queen Mary along with the 7th Armored Division.

The Queen Mary arrived in Scotland on June 13, 1944. On June 15th, Leonard was assigned as a replacement officer to the 18th Replacement Depot, located at Woolacombe, north of Devon. The 654th Tank Destroyer Battalion, which he would later join, disembarked at Omaha Beach, Normandy, France on July 11th, with their M10 Tank Destroyers. The 654th was committed to battle the very next day near Fallot, France. Leonard's military records show no attachments or activity from the time he arrived in Scotland and was assigned to the 18th Replacement Depot until August 14, 1944, where it states he left England to join the fighting forces in France.

Engaged in Europe: Replacement Officer Leonard Michaels arrived in Normandy, France on August 15, 1944. As the active units continued to repel and pursue the retreating Germans through the eastern half of France, Leonard was in Augerville-la-Reviere, 20 miles south of Paris, where the 17th Replacement Depot was located, as part of the 462nd Replacement Company, 80th Battalion. On September 3rd, Leonard was reassigned to the 176th Replacement Company, 33rd Battalion.

The 654th Tank Destroyer Battalion, under the command of Lt. Col. John H. Minton, was engaged in heavy fighting near Nancy, France, and Leonard was called upon to join the battalion. On September 14th, the daily report of the 654th Tank Destroyer Battalion reported "2d Lieuts George C. Little, Robert B. O'Neil and Leonard J. Michaels assigned to and joined battalion during the period." Lieutenant Little is assigned to Company 'C', O'Neil to headquarters, and Leonard as the Commander of Company 'A', 654th Tank Destroyer Battalion. The next day, the U.S. 3rd Army liberated Nancy.

Over the following two weeks there is ferocious fighting over the small towns and river crossings, as both Allies and Germans know that the German border is only 50 miles away. On the 22nd Leonard was assigned to the 1st Platoon of Company 'A', in support of the 1st battalion, 134th Infantry. Under heavy artillery & mortar fire, his platoon fired 4,000 rounds of 50-caliber ammo into enemy foot troops, killing 180 and wounding over 200.

Early in the morning of September 27th, the Germans launched small counterattacks with tanks and infantry from the village of Manhoué, about 2 miles away. There was also heavy enemy artillery fire in and around the village. In response, U.S. infantry and tanks attacked Manhoué- eight American tanks entered the village and destroyed two enemy tanks. The Germans counterattacked and re-captured Manhoué just after daylight. While the 1st Platoon remained in reserve, two of Company 'A's TDs were knocked out, killing the platoon leader and four men.

From the start of October 1944, Company 'A' had been in reserve. On October 5th, the 1st Platoon relieved the 3rd Platoon in support of the 1st Battalion, 134th Infantry in holding Manhoué. It was reported on October 7th that the following morning the division would attack at 0600 in an attempt to straighten their lines. The 1st & 2nd platoons of Company 'A' were in position about 1100 yards to the south of the town.

In the muddy fields of France on that foggy Sunday morning, October 8th, Company 'A' was in direct support of the 134th Infantry at 0700 hours in an attack on Fossieux, only 2.5 miles to the north of Manhoué. At 0830 hours, it was reported that "2d Lieut Leonard Michaels, and Private Charles Roach were WIA … at coord 975265 by enemy artillery fire during attack."
According to the account of Private Roach, Army scouts radioed that enemy infantry was in the area. As the Private climbed the turret to mount the machine gun, a concealed enemy emplacement fired, scoring a hit on the side of their M10 tank destroyer. This hit sent shrapnel into Private Roach, throwing him from the tank destroyer, breaking both of his legs. Riddled with shrapnel throughout his lower body, he was also hit by machine gun fire in his already-broken legs.

The shrapnel hit Leonard in his right shoulder and his head. White-hot metal tore into his shoulder, his uniform providing no protection. His standard-issue M1 helmet, a steel shell worn over a fabric and resin inner liner, protected his head. Any shrapnel that hits the steel would ricochet off, but unfortunately for Leonard a piece struck him just below the rim of the steel shell, where there is a gap between the two pieces. The metal shrapnel tore a gash in the liner just beyond his right ear. Miraculously, while the shrapnel had enough force to tear through the liner, it stopped before penetrating Leonard's head, only nicking a portion of his ear, and does no further damage. The gash in the liner is only one inch from the bottom edge of the liner. Was the shrapnel to hit only that much lower, nothing would have stopped it from penetrating into his head.

Although he lost a small portion of his ear, that wound is superficial. However, his shoulder wound was not. While no details of his injury are reported in his Army records, his letters home, or recounted afterwards, it was serious enough that he was evacuated as a medical casualty and would require weeks of rehabilitation.

Casualty: On October 9th, Leonard was listed as a Casualty at the 49th Evacuation Hospital, located somewhere behind the lines, likely near Étain, France, but possibly farther away in the outskirts of Paris.

Marge would later recount that the Army sent two representatives to their house to inform the family that Leonard had been injured. When Belle opened the door and saw the men in uniform, she fainted- thinking they were coming to inform that he had been killed! By October 12th Leonard wrote to Vicki from his hospital bed but didn't dwell on the details: "I'm doing fine, but miss you something awful…I've been thinking of nothing but you honey and just recalling all our wonderful times we've had and what's even better the times we'll have when I get home…I promise you–it'll take a damn side more than a war to separate us again." He also stated that he felt 'in the pink' (in good health and spirits).

General Orders No. 42, dated October 15, 1944, from the Headquarters, 32nd General Hospital, lists that a Purple Heart is awarded to:

"Second Lieutenant Leonard J. Michaels (Army Serial No. 01825157), Armored, for wounds received as a result of enemy action near Jollocourt (sic), France, on 8 October 1944"

He was one of 154 men listed to receive a Purple Heart, all wounded between mid-September and mid-October 1944, in eastern France, Germany, and Holland. Many other soldiers were listed as wounded on October 8th, in the areas surrounding Metz and Nancy. Private Roach isn't listed on the document, but he eventually received his Purple Heart- his injuries were severe enough to knock him out of the war.

While laid up in the hospital, Leonard had much time on his hands and used the opportunity to write numerous V-mails and letters to his family back home, especially Vicki. He didn't dwell on his injuries much, but noted on October 18th "Today they sewed up my wound and it's a might bit sore." He was presented with his Purple Heart that same day: "Incidentally, sweetheart I was awarded my Purple Heart today and in the next day or so I'm going to mail it home to you. We'll keep it among our souvenirs of the past…"

On November 8th, one month since his injury, in a V-mail to Vicki, Leonard doesn't note the anniversary or linger on the fact that he's been hospitalized for a month.

Sometime after Thanksgiving, after seven weeks of recuperation, Leonard was finally released from the hospital. He was now in a Replacement Depot, as when he first arrived in France, although he was still technically assigned to the 654th Tank Destroyer Battalion.

By mid-December, Leonard was still in the Replacement Depot. Within days he's called up to re-join his unit in northeast France, near the borders of France, Germany, and Luxembourg.

The Race to Berlin: 2nd Lieutenant Michaels finally rejoined the 654th Tank Destroyer Battalion on December 20, 1944. He was assigned and re-joined Company 'A' and took command of the 1st Platoon. The 654th was still in support of the 134th Infantry.

The unit was detached from the 134th Infantry on December 21st and attached to the 320th Infantry. After-action reports mentioned rumors the enemy had broken through to the west in Luxembourg, and they believed they would be deployed to the Ardennes Sector in Belgium. On December 22nd, Company 'A' was ordered to move out- en route to the new front now known as 'The Battle of the Bulge'.

After a break for Christmas, on the 26th of December the unit was relieved of direct support of 2nd Infantry, 5th infantry division, and moved to Lischert, Belgium, in reserve. During the following week, Companies 'B' and 'C' saw the most action against the Germans in the Ardennes Forest, as the 654th continued to fight both the regular German army trying to hold onto Bastogne, German agents who parachuted in wearing American uniforms, as well as others pretending to be Americans- using captured U.S. planes, tanks, and other vehicles.
By January 13th, the German attack against Bastogne had been defeated. The 'Battle of the Bulge' was over and the Battalion returned to Metz, France, under XX Corps control and engaged in "rehabilitation, recreation, and training."

A few days later, the Army decided that break time was over, and Company 'A' was alerted for movement to join the battalion in the Ninth U.S. Army Sector. On January 30th, the battalion was relieved from attachment to Seventh U.S. Army and XV Corps and assigned to the Ninth U.S. Army and XVI Corps.

For the first few days of February, the unit repositioned between France, Luxembourg, and Belgium, essentially traveling north along the border with, and occasional sorties into, Germany. Leonard wrote to Vicki on February 5th: "As you can see I have moved again- this time back in the Fatherland. But don't worry honey- it isn't as bad as it sounds." A few days later Leonard expounded on what it's like to be inside Germany:

"Most of these German towns as a matter of fact are quite a mess- all blown to hell. The more German towns that are shot up the quicker I'll be home again.

…all there is here in this town is a mass of wreckage and the other things war brings to a town –especially a German town. I was out on a reconnaissance today and passed thru a German town that was an absolute pile of rubble –even worse than St. Lô. If the whole of Germany looks like these towns when this thing is over with, they won't have any time to start anymore wars."

A few days later he put it succinctly: "I wish this damned mess was over with."

By March 15th, the Battalion had reached the Rhine River, and all company commanders and platoon leaders were ordered to make separate reconnaissance along the river for gun positions. On March 19th, 'A' 'B' and 'C' companies continued to make reconnaissance along the Rhine River, and to dig gun positions in preparation for imminent crossing. Company 'A' crossed the Rhine at 0100 hours on March 25th, amidst Luftwaffe attempts to bomb the tread-way bridge the Americans were using. After successfully crossing, they slept in a field near Dinslaken on their first night east of the Rhine. Their after-action report stated: "Company turned east into the Reich, witnessing the deadly destruction of our mighty offensive: destroyed towns, dead humans and animals littered the towns and fields."

On March 29th, after-action reports state: "Lt. Michaels took 1 PW while on recon at 0915." By April 1st, Leonard and his unit has now pushed 223 miles inside Germany, and was on the outskirts of Essen.

April 16th, Leonard was promoted to 1st Lieutenant.

On April 20th the Battalion opened in Tangerhütte, only 80 miles from Berlin. This was the closest that the 654th would get to Berlin before turning and moving west again. Rumors circulated that the battalion would be a part of the Army of Occupation following the war.

April 30th marked Leonard and Vicki's one-year wedding anniversary. No cards, letters, or V-mails survive to record how they 'celebrated' or marked the occasion. For 11 of the 12 months that they have been married, they have been apart with Leonard serving overseas.

April 30th was also the day Adolf Hitler committed suicide in his bunker under Berlin. On May 2nd, the battalion's log has a curt entry: "Hitler died today according to reports. Every one celebrated."

The day following V-E Day, May 9th, the battalion log stated: "This first day of official peace was quiet and silent in Europe… German population notified of German surrender. They could not believe that they had surrendered to the Russians." Leonard sums it up nicely, writing: "It's a beautiful day here–the sun is shining, the war is over."
The Long Wait: After a short respite to enjoy V-E Day, the 654th turned its attention toward new orders. Records state the Battalion's time from May 10th to the 25th was spent in the execution of Military Government functions, vehicle maintenance, guarding military targets, and training.

Sometime in June, perhaps on a furlough, Leonard was photographed outside the Grand Bazaar in Verviers, Belgium. The back of the photograph notes he was 'enroute to Paris', and with cigarette in hand, he looks just like any other tourist, other than wearing his casual uniform.

On July 1st Leonard was assigned to the 630th Tank Destroyer Battalion, as Platoon Leader of Company 'A', in Homburg, Germany.

On August 8th, Leonard wrote to his brother a letter from Westgartshausen:

"Life in the Army of Occupation is very dull and boring. Since our arrival in this area, we've had no occupational duties… We have a training schedule we are supposed to follow.

This new outfit is a good bunch. They have five battle stars, same as 654. They went thru most of their combat with the 28th Inf. Division. All of the under 85 point officers from 654 plus those who said 'yes' on their point score card were transferred here. One of the officers is in the Company with me. He is exec and I have the third platoon. As I've already written we are in the 7th army and attached to 1st Armored division- but they're leaving the area and we'll probably be attached to the division relieving the 1st armored.

Other than the usual G.I. gripes, I'm fine and hoping the next six months or year passes quickly. I have no idea how long we're scheduled to remain here. If the Japanese mess ends soon, it should hasten our return to the states- I hope- please God!"

On August 15, 1945, the world heard the news that Japan had surrendered, and World War II would be officially over on September 2nd. Leonard wrote: "The boys in my platoon had a little 'drinking bout' in celebration of the war's end and invited me down to join them."
In October 1945, Leonard had been transferred again, this time to the 703rd Tank Destroyer Battalion, where he was assigned as Platoon Leader of Company 'B'. On October 28th, Colonel Louis Zuckerman departed for Europe, to assume his new duties in the Army of Occupation as Assistant Adjutant General at the United States Forces, European Theater (USFET) Headquarters. He arrived on October 31st in Frankfurt, and Leonard was there to greet his father-in-law.

Homeward Bound: Per newspaper account, the 654th Tank Destroyer Battalion returned to the U.S. on November 13th, 1945. Although Leonard had been an officer in the 654th, he was not among them.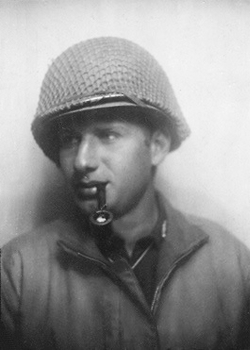 Two weeks later though, he was moved to Camp Baltimore, one of the staging areas for U.S. servicemen as they prepared to return home, in Suippes, France. After several delays Leonard arrived at the Calas staging area in Aix-en-Provence, France, on December 11, 1945. The staging area was a few miles inland from the port of Marseille, and was the last stop for soldiers before boarding a ship to return home. On that same day he was photographed with his old friend and fellow Platoon Commander from the 654th, Lt. George White, and several other men wearing long trench coats, prepared to sail.

On December 16th he wrote to Bob that he was scheduled to depart on the 19th on a Victory Ship, and arrive in New York in about ten days: "A friend of mine, with me from the 654 have made arrangements for our wives to meet in New York, get hotel accommodations, and wait for us" he wrote, adding perhaps with a hint of his own frustration, "I imagine you're kept busy discharging men- that's one thing that can't be done too quickly as far as I'm concerned."

After further delays, on December 23rd, Leonard boarded the Victory Ship S.S. Central Falls and set off into the Mediterranean Sea on his voyage home. Leonard set foot back on American soil for the first time in 18 months when the S.S. Central Falls Victory docked in New York Harbor on January 2, 1946. Once released, Leonard reunited with Vicki at the Henry Hudson Hotel in Manhattan. Vicki and George White's wife Marjorie had obtained rooms there. After the 'honeymoon' in New York, Leonard and Vicki head west. In late January, Leonard and Vicki finally arrived home to Los Angeles.

On January 26, 1946 Leonard begins his terminal leave, which ended on March 21st, and he was relieved from active duty, ending his military career. In addition to his Purple Heart, he would earn the WWII Victory Medal, the American Campaign Service Medal, the Europe, Africa & Middle East (EAME) Campaign Service Medal (with 4 service stars), and later a Cold War Certificate.

Life After the War: Like many service members coming home from war, Leonard quickly returned to the joyful quiet of civilian life. He went back to working in the family luggage and leather goods store, Bon Voyage Bazaar, in Beverly Hills.

Not too long after returning to Los Angeles, the couple learned that Vicki was pregnant. On October 13, 1946, their first child, Anne Sandra, was born. Anne was followed by three boys: Mark Alan was born April 27, 1949; Jeffrey Matthew (Jeff) on July 20, 1952, and finally Ronald Bruce (Ron) on September 25, 1955.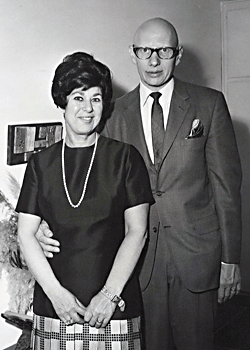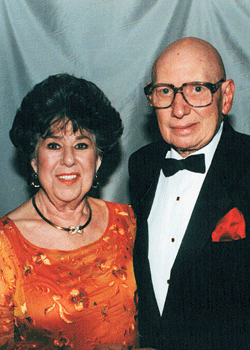 Sometime in the early 1950s, though, Leonard fell sick with an unknown ailment, which kept him bedridden for a time. It's not known if Leonard suffered from nightmares, as was common with those who had seen combat, or other psychological or physical effects of his time in war. But his illness was determined to be 'Shellshock' which today would be considered Post-Traumatic Stress Disorder. Only in his early 30s, all of his hair, including body hair, eye lashes, and eyebrows, fell out as a part of his illness. While he eventually recovered, his hair never grew back, and this is perhaps the longest-lasting effect of war on him.

After raising their four children, Leonard and Vicki welcomed a son- and daughters-in-law, and the birth of five grandchildren. They retired and closed Bon Voyage Bazaar in 1985 and enjoyed retirement by traveling (including cruising on the Queen Mary), and spending time with their family.

Leonard fell sick from Multiple Myeloma and died on July 26, 1997, at age 76. Vicki lived until February 11, 2014, dying at age 89, long enough see the births of three of their now eight great-grandchildren. They are buried together at Hillside Memorial Park in Culver City, California.