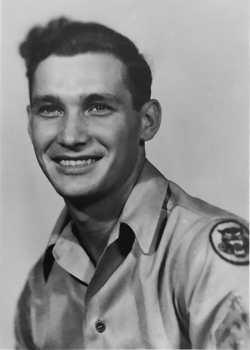 Cletus W. McEldowney
Biography: Cletus Willard McEldowney, "Clete", was born on January 14, 1924, in Versailles, Ohio. He was the son of Leo McEldowney and Ethel Simons and attended local schools through the 9th grade. He later worked as a truck driver for a feed mill in Versailles and had a license to drive tractor trailers for hauling freight from Dayton to Chicago.
Service Time: Clete entered the service on March 11, 1943, at Fort Thomas, Kentucky. After his basic training, he was assigned to Company A of the 652nd Tank Destroyer Battalion and functioned as a light truck driver, hauling ammunition, supplies and personnel. He was also responsible for keeping the truck in running condition, making minor repairs as needed. He also qualified as a Sharpshooter with the .30 caliber carbine.
The 652nd was formed on March 20, 1943, at Camp Bowie, TX, but were based at Camp Hood, Texas through most of it's history. It was a Self-Propelled (SP) tank destroyer unit that initially utilized the M-3 half-track with 75mm gun and later progressing to the M10, M18 and then M36, full-track tank destroyers. The 652nd was not deployed overseas and was one of seven tank destroyer battalions that remained stateside but they continued to train, maintaining a state of readiness in case they were called up for overseas duty.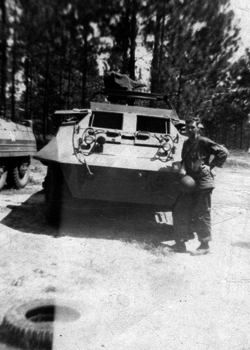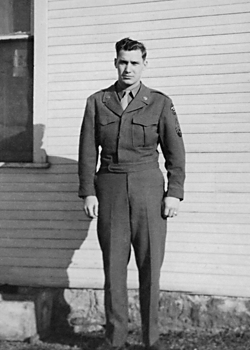 One of their training sessions involved the laying and removal of various types of mines. This training utilized live equipment and on March 13, 1944, while stationed at Camp Robinson in Arkansas, the 652nd suffered severe casualties when an anti-personnel mine accidentally exploded, killing 12 soldiers and injuring 14.
One of the assignments for the 652nd's personnel during 1945 was serving as armed escorts for German prisoners of war. As they arrived aboard ships at U.S. seaports on the east coast, the unit guarded them as they were transported on trains and delivering them to POW internment camps throughout the U.S.
The unit was inactivated on September 15th, at Camp Shelby, Mississippi. Cletus would have been transferred to another unit for the remainder of his service time. He left the service on March 20, 1946, at Camp Atterbury, Indiana. He was awarded the American Theater, the WWII Victory and the Good Conduct medals. He held the rank of Technician 4th grade at the time of his discharge.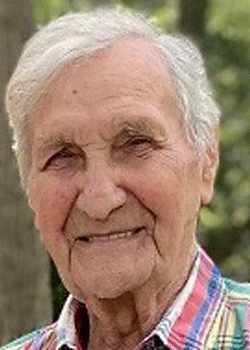 After he returning to Ohio, he made his home in Arcanum and went to work for General Motors, in their brake division plant, in Dayton. In 1953, he married the former Patricia Ann Barga who was also from Ohio and was the daughter of Cyril Lawrence Barga and Mary Elizabeth Groff. The new couple would have 3 boys and 2 girls. In his spare time, Clete enjoyed playing softball.
Clete passed away on November 28, 2022, and was buried in the Miami Memorial Park Cemetery in Covington, Ohio. I want to thank Clete's son, Kevin, for providing the information and photos used in this tribute.