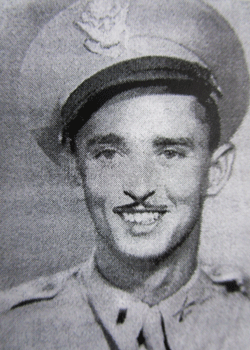 Edward J. Mustatia
Biography: Edward John Mustatia, "Ed", was born on August 16, 1919, in Hamtramck, Michigan. He was one of five children born to Nickolas and Pauline Mustatia. At a young age, his family moved to a farm in Gregory, MI. At the age of 16, during the Great Depression, he joined the CCC (Civilian Conservations Corps) to help support his family. During the 18 months he was away with the CCC, sadly, his family lost their farm and his parents' marriage ended.
Ed then left Michigan and moved to Washington state, working in the logging industry until he was drafted in March of 1941.
Service Time: Ed entered the service on April 23, 1941, at Tacoma, WA, and was sent to Fort Lewis, for his basic training. He was assigned to the 103d Antitank Battalion, which had been activated on September 30, 1940, from Washington National Guard troops. The unit was federalized on February 10, 1941, and redesignated as the 803d Tank Destroyer Battalion on December 12th.
That same year, while on leave from the unit, Ed married the former Betty J. Gaddis. The couple would have a daughter, Sharon, born in 1943.
Ed was promoted to Staff Sergeant while still with the unit but was transferred out with a cadre of personnel to help form the 821st Tank Destroyer Battalion. He was chosen to attend OCS (Officer's Candidate School) and graduated with the 21st Class at Camp Hood, Texas, at the rank of 2nd Lieutenant. As part of his continued training, he attended transportation, artillery, gunnery and command tactics schools.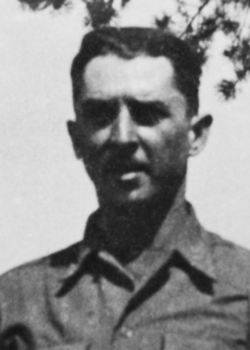 In his book "WWII Heartache & Glory", which Ed published in 2003, he identifies that he shipped overseas and landed at Omaha Beach with the 1st Infantry Division on June 6, 1944. We are not sure if he had been assigned to the Division or one of their attached units. He states that he does not remember much about that day but that it may be better that way. Ed was assigned briefly to the 3rd Army but as the breakout from the Normandy beaches progressed, the need for supply lines was quickly identified. He was transferred again to assist with organizing the "Red Ball Express", which was a truck convoy system designed to carry supplies to Allied troops moving at a rapid pace across Europe. At its peak, the convoy carried about 12,500 tons of supplies daily and existed for 83 days, until port facilities, train lines and gasoline pipelines were repaired enough to assume the transportation responsibilities.
We are not sure of the exact date, but Ed was assigned to Company B, 3rd Platoon, of the 814st Tank Destroyer Battalion, which he led throughout the remainder of the war. The unit was equipped with M10 tank destroyers and on August 8th, they began to race across France, participating in the fighting around Metz in September. They then moved to the Peel Marshes, in Holland, at the end of the month. and began re-equipping with M36 tank destroyers in October, supporting the Ninth Army's drive toward the Roer River in November.
Transferring with the 7th Armored Division to the Ardennes on December 17th, they participated in the defense of St. Vith, Belgium. The 814th supported operations against the West Wall in February, 1945, and crossed the Rhine River at Remagen on March 23rd. They helped reduce the Ruhr Pocket in April. Ed relates in his book that his platoon was about a mile outside of Menden, Germany, on a secondary road when they came to a large clearing with five German vehicles lined up, each having a large white flag displayed. Ed gave the order to stop and not to fire. A lone German soldier climbed out and walked towards them with a white flag. Ed motioned for two of his Sergeants, Harland L. Haglin and John C. Dimke, to accompany him to meet the soldier. When they came face to face, the German 1st. Lt. said "Good morning, Lieutenant" in perfect English and continued to explain that he had a General Officer with him and that they were ready to surrender. Ed informed him that he couldn't accept the surrender but that he would send for a higher ranking officer who could.
The Germans did surrender that day to 7th Armored Division Commander, Major General Robert W. Hasbrook. All in all, approximately 325,000 troops had surrendered and it turns out that the German soldier Ed had met was from Brooklyn, NY. He was forced to stay in Germany after coming to visit family in 1939. All he wanted to do was get back to the U.S.A.
The 814th continued to drive east to the Elbe River, crossing and then reaching the Baltic coast on May 3rd. Ed was offered a promotion but with that promotion came the need to continue with the unit onto Japan. Ed chose not to accept and was instead assigned to the 14th Cavalry Group as a troop commander. He traveled with the unit back to the U.S. aboard the U.S. Victory and was discharged on December 22, at Fort Lewis, WA.
Ed received credit for five campaigns, including Normandy, Northern France, Rhineland, Ardennes-Alsace and Central Europe as well as an Army Commendation and numerous other awards for his service.
After returning to Seattle, Ed worked at a number of occupations, spending additional time in the logging industry, commercial fishing in Alaska and then 15 years in the automobile industry in Riverside, California. After Betty's death, Ed would meet and later marry Bobbie R. Sloan on December 9, 1966. Bobbie worked at the same auto agency as Ed. The new family consisted of Ed's daughter Sharon and Bobbie's five children. They would add a seventh child when they were blessed with a daughter, Candy, in 1968. The family then moved back to Washington where Ed worked in the home building industry around the Puget Sound area and built the family's dream home in Port Hadlock, WA. Ed was a member of the VFW Post 7498 in Port Hadlock and served as Post Commander for 6 years.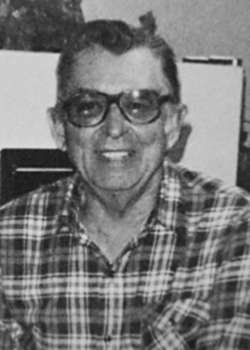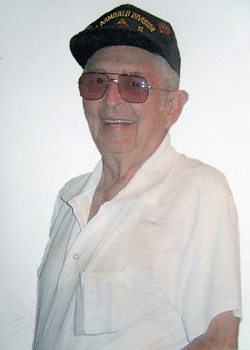 After retiring, he moved to Lake Havasu, Arizona, to live near two of his daughters. Ed joined the American Legion Post 81 in Lake Havasu. He passed away on September 3, 2006, and was buried in the Riverside National Cemetery in Riverside, CA.
I want to thank Serge Lemaire for providing information and images used in this tribute. As identified, much of the information was gathered from Ed's book.