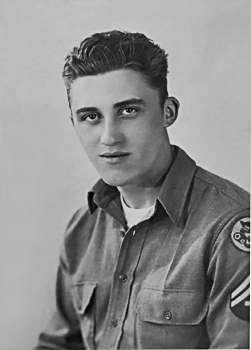 John W. Mitchell
Biography: John William Mitchell was born on April 28, 1923, in Clearfield, Pennsylvania. He was the son of William Eadie Mitchell and Anna Marie Stumpff and attended local schools through the grammar level.
Service Time: John entered the service on February 12, 1943, at Allentown, PA. After his initial training, he was assigned to B Company of the 813th Tank Destroyer Battalion.
The 813th had been activated on December 15, 1941, at Fort Bragg, North Carolina. They completed all of their training at that location and then shipped out from the New York port on August 5, 1942. They arrived in England on the 17th and four months later were again on board, traveling to North Africa. They arrived there on December 14th and participated in the Tunisia Campaign, working with British and French forces as well as the U.S. 34th Infantry Division. Part of the battalion went to Sicily, Italy, with the 3rd Infantry Division and the 13th Field Artillery Brigade. In the summer of 1943, a portion of the battalion participated in the invasion of Italy.
In November of that same year, the entire battalion set sail for England and began training for the invasion of France. They boarded transports and landed in Normandy, at Utah Beach, on June 27, 1944, where they were attached to the 79th Infantry Division. The 813th joined the drive to Le Mans and then moved north to Alencon at the Falaise Gap and were the first armored unit to cross the Seine River. They entered Belgium on September 2nd, later fighting around the Foret de Parroy, in October, and supported the advance toward Strasbourg in November.
Battling the German Nordwind offensive in January, 1945, they partially re-equipped with M18 tank destroyers after heavy losses. The unit shifted to Belgium in February, re-equipping again with M36 tank destroyers, and crossed the Rhine River March 24th, participating in the reduction of the Ruhr Pocket. They then conducted a long road march south to Ulm and took on military government duties in early May.
The 813th received credit for the Tunisia, Rome-Arno, Normandy, Northern France, Rhineland, Ardennes-Alsace and Central Europe Campaigns. We are not sure but we believe John left the service at the rank of Technician 5th Grade.
Our information about John after the war is limited but we do know that he returned to Clearfield and married the former Jessie Marie Graffius who was born in Shiloh, PA, and was the daughter of Jesse F. Graffius and Edna Wallace. The new couple would have two daughters, Gail and Sherry. As of 1958, John was working as a mechanic for the Rhone Motor Company, which was a Pontiac dealership.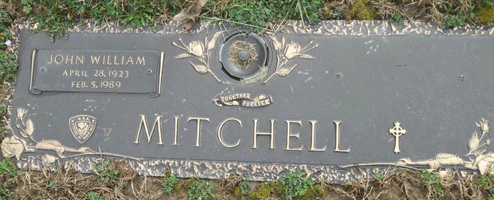 John passed away on February 5, 1989 and was buried in the Crown Crest memorial Park in Hyde, PA.