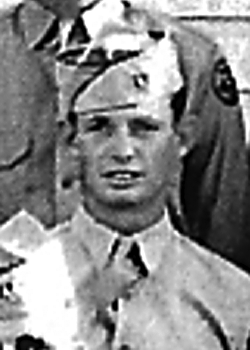 Quinton L. McNeill
The following text was provided by the McNeill family
Biography: Quinton Lee McNeill, "Quint" was born on December 31, 1919. He was the son of James Andrew McNeill and Victoria Kelly and attended local schools through the 10th grade . He then worked as a farm hand. His enlistment record indicates that he had served in the National Guard prior to the war.
Service Time: He enlisted in the Army on September 16, 1940, at Sanford, NC. He was only 20 years old at the time and entered into active service at Fort Jackson, South Carolina. Quint was assigned to Company A of the 630th Tank Destroyer Battalion and trained as an M3 Half-Track Driver. The M3 Half-Track towed an M5 three-inch anti-tank gun and each Tank Destroyer Battalion was comprised of three companies, A, B, and C, with each company having 12 M3s towing the M5s.
The 630th transferred to Camp Rucker in Alabama in June 1943, and while on leave from the unit, Quint married the former Irene Mae Treece, on July 28th, in Coffee County, Alabama. Irene had been born in Greensboro, NC, and was the daughter of Macon Isaiah Treece and Nellie Louise Beck.
Quint and Company A left the United States for deployment in Europe on June 3, 1944, only three days prior to D-Day. Company A was led by Captain John F. Graney. They shipped out of New York City on the Nieuw Amsterdam, a Dutch Ocean Liner that had been converted by the British into a troop transport. The 630th arrived at the Firth of Clyde in Scotland on June 12th, and trained in England while awaiting deployment. The unit eventually boarded LSTs (landing ship tanks) on July 22nd, and disembark on July 24th, on Omaha Beach in Normandy.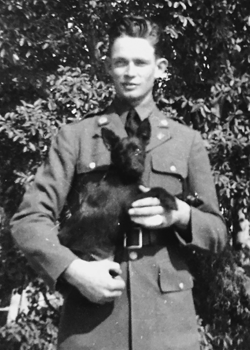 Quint and his unit were involved in some of the most intense combat in Northern France, Rhineland, the Seigfried Line, the Hurtgen Forest, and the Ardennes in November and early December 1944. Quint's and Irene's firstborn, Quinton Lee, Jr., was born on November 5th. Company A supported the 28th Infantry Division and when the German offensive (which is commonly now known as the Battle of the Bulge) started on December 16th, Company A fought a delaying action with the 109th Infantry toward the South of the area near Stegen, Belgium, according to operational reports. Company A would perform daily contact patrols for the 109th Infantry and it was during one of these patrols that Quint was reportedly captured on Christmas Eve, December 24th.
It was the family's understanding that Quint's M3 Half-Track became disabled and he and his crew had to abandon it. They bent down to drink some water in a stream and were surrounded by the Germans. He and the other captured GIs were herded onto railroad cars. Some of these same trains were strafed by Allied fighters. Quint was taken to and imprisoned in Stalag IVB Muhlberg near Dresden, Germany. The only notation in the 630th operational report at the time was the following:
"Full report on Second Platoon Company 'B' and two sections of Company 'A' not available, due to loss of personnel."

On January 18, 1945, Quint's family learned for the first time that he had been MIA (Missing in Action) since December 24th. Quint's youngest brother Bernie, related the story of their father James, being absent from the house during that winter and their mother Victoria had sent Bernie to find him and summon him back for dinner. Bernie found his father outside near one of the old farming "pack" houses where his father was openly sobbing over Quint's MIA and possible death or imprisonment. Bernie's own upcoming enlistment may have been part of the sadness as well. It was the only occasion during his life that Bernie witnessed his father sobbing. Bernie said that when he saw and heard his father crying, he quietly returned to the house and told his mother and nothing more was said.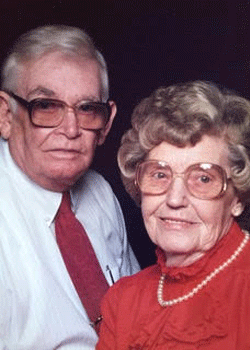 Quint and other Allied prisoners were liberated from Stalag IVB Muhlberg on April 12, 1945. He received a Purple Heart on May 17th, after he was liberated from the German prison camp for being wounded during the Battle of the Bulge campaign. Following his liberation, Quint was hospitalized in an Army Hospital in Paris due to malnutrition, as he weighed less than 100 pounds and had nearly died from starvation in the prison camp. He wrote to Irene and family on April 29th, and informed all that he would recover. He returned to the United States on June 16th and was discharged honorably on October 31st, returning to Irene and his McNeill family in Broadway, North Carolina. He had earned the EAME (European, Africa, Middle Eastern) Theater Medal with four Bronze Service Stars and left the service at the rank of Sergeant.
Now back in Broadway, he found work as a Civil Service worker at the Fort Bragg, Army Base in Fayetteville, NC. In addition to his son born while he was overseas the family would welcome a daughter Janice born in 1947. Quint was a member of the Broadway United Methodist Church. Quint passed away on November 2, 2001, and was buried in the Broadway Town Cemetery in Broadway.
I want to thank Quint's nephew Barry, for providing the information and photo of Quint and Irene used in this tribute. Thank you also to Find A Grave contributor SGM B. Horne, for the use of the grave marker photo.