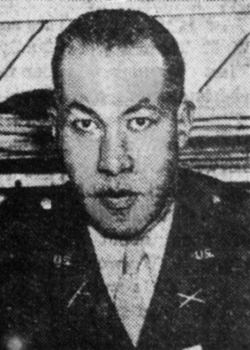 Theophilus M. Mann
Biography: Theophilus Marcelllus Mann was born on February 5, 1902, in Springfield, Illinois. He was the only child of Jesse James Mann and Grace Ann Dyer. He attended Palmer Elementary School and Springfield High School, where he was a member of the football, basketball and track teams as well as an honor student. In 1926, he graduated with an A.B. Degree from the University of Illinois at Urbana, followed by his LLB in 1927.
He was admitted to the practice of law by the Supreme Court of Illinois in 1928 and by the U.S. Supreme Court in 1935. On September 20, 1930, in Ann Arbor, Washtenaw County, Michigan, Theophilus married the former Esther Ophelia Tibbs who was from Buxton, Monroe County, Iowa. She was the daughter of Oscar B. Tibbs and Mary Ann Dixon. They divorced sometime prior to 1939. He was an Examiner of Titles of Cook County from 1929 to 1930 and was an attorney for the Public Works Administration from 1934 to 1940.
Service Time: Theophilus joined the Illinois National Guard in 1928, and by 1938, he was serving as a 1st Lieutenant, commanding Headquarters Company, 2nd Battalion, 8th Illinois Infantry Regiment. On January 5, 1941, he was promoted to Captain and on the 6th, his unit was federalized and he became a member of the regular Army. Theophilus achieved the rank of Major on June 21, 1941 and on February 5, 1942, he assumed command of the 795th Tank Destroyer Battalion, stationed at Fort Custer, Michigan. On July 8th, he was promoted to Lieutenant Colonel.
The unit continued their training at Fort Custer and at some point, were transferred to Camp Bowie, Texas. On May 9, 1943, they were ordered to moved to the Tank Destroyer Center at Camp Hood, TX for more TD specific training. As of February, 27, 1944, thru March, they were conducting training firing issued personal weapons at Camp Plauche, New Orleans, Louisiana. On April 24th, readying for shipment overseas at the Hampton Roads Port of Embarkation, Newport News, Virginia, the 795th was deactivated.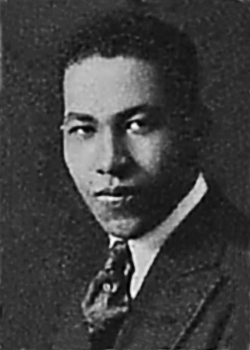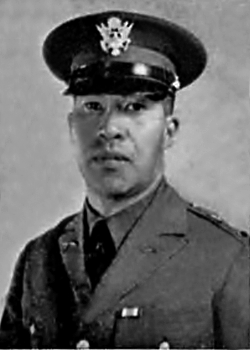 The photo on the left is from his time at the University of Illinois. The right photo was taken while he was serving in the National Guard with the 8th Illinois Infantry Regiment.
Three newspaper articles tell somewhat different stories regarding Theophilus' next military assignment. One, from June, 1944, says he was commanding a Port Battalion and by early that month, they were stationed at a port in England. A second article indicates that at one point, while he was overseas, troops under his command were guarding 29,000 German soldiers. A final article, written in 1975, says he commanded the 236th Quartermaster Battalion. We can't confirm his service with either unit or how the prisoner guarding fits in this timeframe. He left the service on December 7, 1946 at the rank of Lieutenant Colonel. He was awarded the American Defense, American Theatre, EAME, with two Campaign stars and the WWII Victory Medals along with three overseas service bars.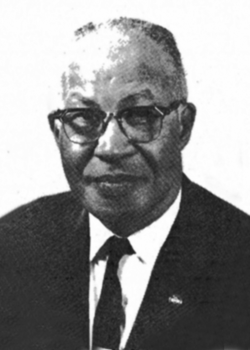 After returning home, Theophilus resumed his law practice. Although we don't have a date, at some point he married the former Maude Lillian Underwood. The couple had no children. He was appointed to the Chicago Housing Authority Board in 1957 and became vice chairman in 1965. He was on the Chicago Police Board from 1960 to 1973. Other Civic activities included Provident Hospital and Training School Association, Trustee, since May 21, 1947; Secretary of the Board of Trustees April 20, 1949 to 1996. Kappa Alpha Psi Fraternity, National President 1935-1938. He was director of Supreme Life Insurance from 1931 to 1964 and director of Burr Oak Cemetery Association from 1936.
Theophilus passed away on May 11, 1975 in Chicago. He was buried in the Burr Oak Cemetery in Alsip, Cool County, Illinois.
Thank you to E-Yearbook.com for the photo of Theophilus, while a student at the University of Illinois. The photo is used by permission of Digital Data Online, Inc.