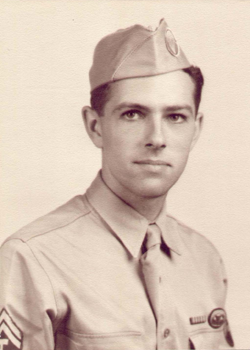 John D. Morgan
Biography: John Daniel "Dan" Morgan was born in 1921, the son of William Lloyd and Mary Ellen O'Brien Morgan. He was born in Victoria, British Columbia, Canada, although both his parents were originally from Spokane, Washington. He graduated from Victoria High School and then moved to California where he worked for Douglas Aircraft and attended both the Cumnock School and City College of Los Angeles.
Service Time: Early in 1942, Dan volunteered for service in the U.S. Army at Ft. Bliss, Texas. He was sent to Ft. Benning, Georgia, for training with the 551st Parachute Infantry Battalion. The photo shown on the left is from 1943, in New York. It identifies him as an Army paratrooper and the rank of T5. The unit was sent to the Caribbean Theater where they prepared for the assault on Martinique. After returning to the U.S., he was injured in a training accident and placed in the HQ, 36th Reinforcement Depot, for redeployment. On May 15, 1945, he was transferred to the HQ Co. 6th Tank Destroyer Group, which was stationed at the Dachau Concentration Camp in Germany. On July 21, 1945 he and another soldier, T. Boutsikaris, were put on DS (Detached Service) for an eight week period at the Army University Center No. 1, in Shrivenham, England.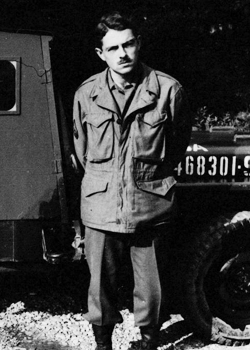 When Dan left the army in 1946, and first attended Gonzaga University in Spokane. He then transferred to the School of Foreign Service at Georgetown University in Washington D.C. While there he participated in the ROTC program and was commissioned into the Air Force Reserve in 1949, at Lowery AFB, Colorado. He would also meet the love of his life, LaHonda Jo Walton, and marry her in 1949. He graduated in 1950, and would go on to hold various Air Force and National Intelligence assignments throughout the country, including the Central Intelligence Agency in Washington D.C. and the Far East. He also worked for the Army Missile Intelligence Command at Huntsville, Alabama.
In 1970, he joined the U.S. Customs Service and worked as an inspector at various posts in the Port of Seattle including temporary assignments at Nighthawk, near Loomis. He retired in 1977 and moved to Wauconda, WA, where he built a home on Mt. Toroda and was a resident for 24 years.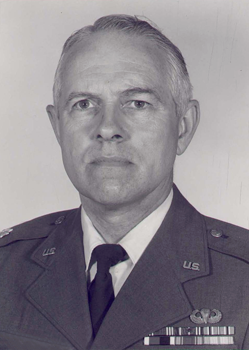 While there, he established the MorningSong Forest Restoration Project to demonstrate ecologically sound practices for reclamation of over-logged land and establish a sustainable forest operation. Dan also wrote 11 books, including his definitive history of the 551st Parachute Infantry Battalion, his personal memoirs, poetry, a series of videos of music and scenes for meditation. He also enjoyed watercolor painting and creating stained-glass windows.
The photo on left is from 1972, while he commanded the USAF Reserve Intel unit at McChord AFB (Air Force Base). His rank is Lieutenant Colonel.
He was a lifelong member of the Catholic Church and had been a Secular Franciscan for more than 40 years. He was also a past officer of the 551st Parachute Infantry Association, a member of the Veterans of Foreign Wars and the Washington Society of the Sons of the American Revolution.
Dan passed away on Jan 31, 2002. He and LaHonda Jo had celebrated 52 years together and had four sons, Daniel, Tom, Ric and Bill as well as four daughters, Suzy, Tree, Lee and Maria. At the time of his death, Dan had 18 grandchildren and 6 great-grandchildren.
Research: I found Dan Morgan's name referenced in Gregory Orfalea's book, Messengers of the Lost Battalion. I was able to contact Gregory who was able to point me in the right direction to find Dan's family. It didn't take me long to find Dan's son Ric. I want to thank Ric and his family for their assistance with this research. Without the support of the families, this work would be impossible.
Within Gregory's book, Dan relates some of his experiences while at Dachau. It states that Dan arrived one week after VE Day (May 8th, 1945). Due to the location of the 6th TD Group during the month of May, it is my belief that Dan actually spent some time at Dachau prior to his transfer to the unit. He speaks of the many piled-up bodies that he saw, the many more that would die over the next week and the townspeople who were forced to bury the bodies. He says "the stench was worse than a thousand dead horses". I can't imagine what these men thought as they lived through this terrible time in man's history but I know everyone that lived through it was changed forever. He also mentions that German POW's were eventually brought to Dachau and he and the other soldiers provided security. Army Intelligence separated the prisoners into three groups. Group one was the SS, who had blue tattoos under their armpits. Group two were those they couldn't identify and group three were the Wehrmacht troops who were eventually shipped to France to clear minefields.