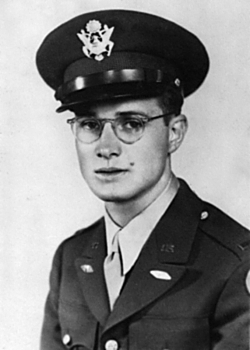 Dunbar D. MacNemar
Biography: Dunbar Dix MacNemar was born on Jan. 31, 1921, in Odenton, Maryland. He was the son of Dr. Oscar H. MacNemar and Gertrude Baldwin MacNemar of Millersville, MD. Dunbar graduated from Annapolis High School in 1939 and the University of Maryland in 1948.
Service Time: Dunbar spent his entire WWII career serving as part of the 811th Tank Destroyer Battalion, which saw action in the Battle of the Bulge, the Siegfried Line and the Rhine River. His unit received both a Distinguished Unit Citation and Croix De Guerre awards. Dunbar received awards of his own, two Purple Hearts and a Bronze Star with an Oak Leaf Cluster and a V for Valor. Dunbar continued in the Army and was stationed in Korea, Austria and Izmir, Turkey. He retired from the military in 1969 at the rank of Captain and subsequently worked at the 1st U.S. Army Public Information Office at Ft Meade, retiring from Civil Service in 1985.
Dunbar gave generously to Red Cross blood drives throughout his life and was a 10-gallon donor. He was a member of the NRA, Military Order of the Purple Heart, Phi Kappa Sigma Fraternity, Anne Arundel Camera Club, Indian Landing Boat Club, St. Stephen's Episcopal Church, Odenton Masonic Lodge, Ft. Meade Rod and Gun Club, American Volkssport Association, Sierra Club and Save Our Streams organization. He was an avid outdoorsman who enjoyed sailing, hunting, shooting trap and skeet, fishing and photography and traveled extensively during his retirement. He attended a Battle of the Bulge reunion and several 811th Tank Destroyer reunions.
On Nov. 19, 1949, Dunbar married the former Jean Allwine who was born Dec. 24, 1927, in Washington D.C. She was the daughter of Louis P. and Maude Rogers Allwine. Jean had attended old Central High School in Washington, graduating in 1945. She went on to attend both George Washington University and the University of Maryland. After their marriage, Jean accompanied her husband on his military assignments until settling in the Washington area in 1967. During all those years, Jean distinguished herself as a longtime member of the Red Cross, a member of St. Stephen's Episcopal Church, Alpha Delta Pi sorority and Indian Landing Boat Club. She received a 20-year pin from Fort George G. Meade for her service and commendations from U.S. Forces in Austria and NATO in Turkey. She enjoyed traveling, cooking, reading and animals. The had three children, one son, Louis H. and two daughters, Barbara and Margaret.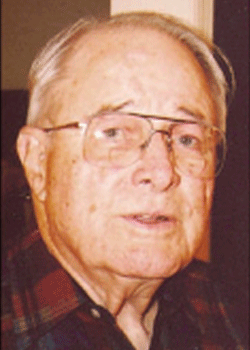 Jean preceded her husband in death on April 1, 2005, while living in the Glen Burnie, MD, area. Dunbar passed away on Dec. 18, 2009, while living in Severna Park, MD. Both are buried in the St. Stephen's Church cemetery. I want to thank Dunbar's daughter, Barbara, for the photos of her father and other materials on the 811th.