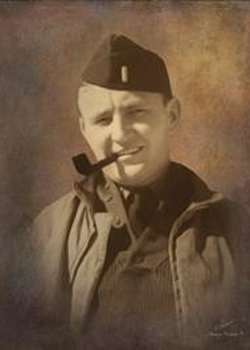 James J. McAloon
Biography: James J. McAloon was born on Nov. 8, 1921, in Glasgow, Scotland. He was the son of James Patrick and Margaret Izat McAloon. His family immigrated to the United States, in 1925, and settled in Greenwich, Conn. James attended St. Mary's Catholic School and Greenwich High School, graduating in 1940.
Service Time: That same year, he entered the service in the Connecticut National Guard and was called to active duty in 1941. He was sent to Camp Blanding, Florida, in the 192nd F.A. Anti Tank Battalion of the 34rd Infantry Division. After Pearl Harbor, he was selected for Tank Destroyer Officers Candidate School at Ft. Hood, Texas, and graduated as a Second Lt., in 1942. He was assigned to the 701st Tank Destroyer battalion, 1st Armored Division, with whom he fought in North Africa, where he was wounded, and in Italy. Upon his discharge from the active Army in 1945, and assignment to the Reserves. James served with distinction in World War II, where he was awarded the Purple Heart, in Germany, during the Cold War, and Vietnam. He served as aide-de-camp of General of the Army Dwight D. Eisenhower in Paris, France. He commanded F troop 3rd. Armored Cavalry, the 5th Squadron 9th Cavalry, a descendant of the famous "Buffalo Soldiers" 9th Cavalry, the 194th Armored Brigade. He also served as Chief of the Armor Combat Development Command in Ft. Knox, Ky. He retired from the military as a Colonel.
He married the former Constance Marie Boyd in Chatham, New Jersey, on June 21, 1947, and together they had six children, James, Deirdre, Constance, Sean, Bridget and Brendan, who followed in his father's footsteps to become a Colonel also. James continued his education, entering St. Lawrence University in Canton, New York, where he received his B.A. in Sociology in 1949. He received his Masters of Arts Degree in Education from Boston College, and a Masters of Arts in Counseling from Chapman College in California. He retired as the professor of Military Science at the University of Iowa.
James continued to serve his country as a member of the U.S. Military Academy Admissions Field Force, assisting those who sought to enter the Military Academies. His love of golf led him to serve as a 40-year volunteer course captain marshal at the Crosby AT&T National Pro Am Professional Golf Tournament at Pebble Beach, CA. In addition, he served in the same capacity for two PGA and three U.S. Opens. He was recognized, in 2000, for his service. He was a member of St. Anthony of Padua Catholic Church in Clarksville and served as a member and Chair of the Parish Council.
James J. McAloon passed away on Oct. 24, 2010, with services being held at St. Anthony of Padua Catholic Church. Colonel McAloon will be buried with military honors at Arlington National Cemetery. At the time of his death, James had 15 grandchildren and 7 great-grandchildren.