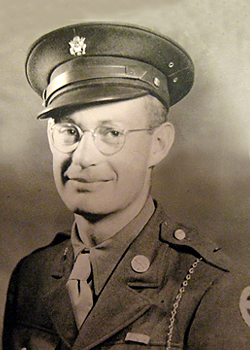 Robert L. Martin
Biography: Robert "Bob" L. Martin was born on November 8, 1919, in Champion, Nebraska, which is in Chase County. He was the son of Worthing Samuel and Mattie L. Robinson Martin and as a child, he attended Sunny Crest, which was a one room school on the prairie, north of Boone, Colorado. There were only seven students and six were Martin's brothers and sisters. He then attended Boone High school, graduating in 1939. After graduation, he went to work driving a truck.
Bob met and later married the former Dorothy Lee White, on September 15, 1941. She was born in Boone and was the daughter of Harry Newton White and Jeanette Elizabeth Buereglin. The couple remained in Boone to start their life together.
Service Time: Bob entered the service and was assigned to the 807th Tank Destroyer Battalion. During his time stateside, he received training at Ft. Bliss, Texas, Camp Hood, TX, Camp Gruber, Oklahoma, Camp Polk, Louisiana and finally Ft. Dix, New Jersey, before being shipped overseas. He shipped out on the USS Hermitage, landing in Liverpool, England, and eventually landed at Utah Beach in Normandy, France, on September 18, 1944.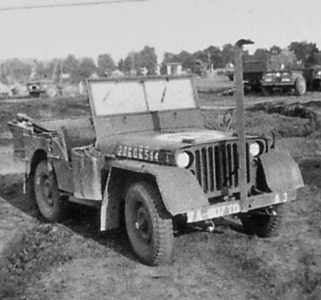 Bob related the following story about his jeep…"I was issued this Ford Jeep in England during WWII. I was told to get it combat ready for the landing at Utah Beach. I put a rack on the back, and mud flaps behind each wheel, which I found in a dump. A piece of metal, also found in the dump, from the fender down to the bumper to keep mud and water from splashing me as I drove. I used a hammer and chisel to make fenders. I also put a 4 inch angle iron from the bumper up to catch anything that might be across the road, such as wire not seen with the naked eye, the enemy put the wire up as a way to decapitate us if we drove through it. I found a 1935 Buick that had some wipers so I put them on the my Jeep. I am sure it was the only Jeep like this!"
The 807th Fought in the Metz sector from September to November and attacked toward Saarlautern in November and December. They battled the German Nordwind offensive in January 1945, and then shifted north for offensive to the Rhine in March. They defended the Rhine River bridges in April and converted to M18s in time to join the drive through Bavaria late in the month. They finally reached the vicinity of Salzburg, Austria, in early May. Bob saw action throughout Europe in cities and towns including Annoux La Grange, Thionville, Metz, Saarlautern, Hageneau, Rheinberg, Wessel, Burghausen and Hockenhiem. Bob reached the rank of T/5 before war's end and shipped home on the Marine Robin. On July 15, 1946, Bob's Company A was awarded the Croix De Guerre with Silver-Gilt Star from the French Government, for their actions in the battle for Metz.
When Bob returned home, he went back to work at what he knew best and that was truck driving. He became an owner/operator of the White Trucking service and also worked for School District #60 in Pueblo, CO, as a custodian. Together, he and Dorothy had seven children. Bob thoroughly loved spending time with his family as evidenced by their many camping trips and street-rodding and racing interests. In his younger days, he helped build many a race car with his sons and even raced a few times. Even in his early nineties, Bob still enjoyed taking his 1947 Chrysler Royal to shows. Bob was a loyal member of both the National Street Rod Association and the VFW.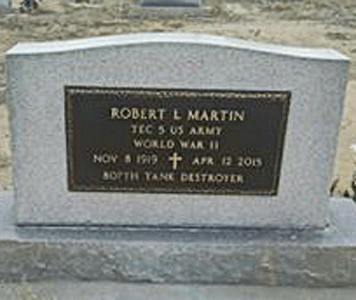 Bob passed away on April 12, 2015, and was buried in the Fowler Cemetery in Fowler, Colorado. I want to thank his daughter, Charlotte, for providing the information and photo for this tribute.