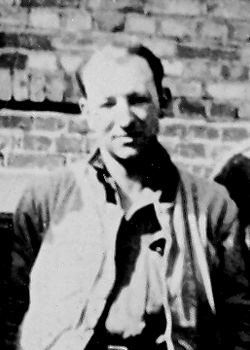 Merle M. Miller
Biography: Merle Melvin Miller was born at home in Jefferson Twp., Jay County, Indiana. He was the son of Oliver Wesley Miller and Sarah Elizabeth Collins and attended Gov. I.P. Gray High School from which he graduated in 1936. He then went to work as a welder with the Sheller Mfg. Corp. in Portland, Indiana. Sheller manufactured steering wheels for nearly every automobile manufacturer in business. In their spare time, Merle and his brothers, Jack and Everett, played baseball with Merle taking the pitcher's spot.
Service Time: Merle was inducted into the army on July 15, 1941, at Fort Benjamin Harrison in Indianapolis and spent time at Fort Bragg, North Carolina, and Fort Hood, Texas, eventually joining Company C of the 610th Tank Destroyer Battalion. He shipped out with the unit late in May and arrived in Scotland on June 12, 1944. He remained with the unit through each of their four major campaigns; Northern France, Rhineland, Central Europe and Ardennes-Alsace. Merle received the EAME Theater Medal, the American Defense Service Medal and the Good Conduct Medal. He received an honorable discharge on July 30, 1945, and was separated from the service at Camp Atterbury, Indiana, at the rank of First Sergeant.
During his time in the service, Merle married the former Helen Stephen on March 15, 1943. She was the daughter of Leroy Stephen and Mabel Hoppes and was also born at the family home in Jefferson Twp., Jay County, Indiana. The couple lived on a farm outside Portland, Indiana, and together had two daughters. After returning home from the service, Merle went back to work for the Sheller Mfg. Corp. as a welder and remained in that position until his retirement in 1976. To supplement his income, he also did some farming. Merle was a member, and at various times an officer, of the United Auto Wworkers. He was also a member of the Jay County United Way. Merle passed away on August 25, 1987, and was buried at the Green Park Cemetery in Portland, Indiana. I want to thank his daughter, Nan, for providing this information and the photographs.
Below is Merle when he graduated in 1936 and another photo with him and his brother Everett, probably taken after basic training in 1941. The bottom photo was on Labor Day, 1941, when he was visited by his friends, and one of his brothers, while Merle was stationed at Ft. Bragg, near Wilmington, NC. Shown in the photo are L to R, Leon Elliott (friend), Bob Stephen (Helen's brother), Jack Miller (brother), and Merle.