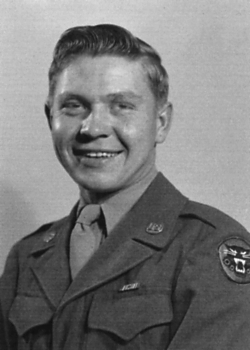 Thomas J. Mysliwiec
Biography: Thomas "Tom" J. Mysliwiec was born on March 6, 1926, in Leechburg, Pennsylvania. He was the second youngest of nine children born to Frank Mysliwiec and Judwiga Pleban who were immigrants from Poland. Tom attended grade school in Groveton, PA and senior high school in neighboring Coraopolis, but in 1943, after finishing tenth grade, he left to attend courses at the Aircraft and Aircraft Engine Mechanic School in Pittsburgh, PA. His close friend, John Petrowski from Groveton, PA, attended school there also. During this time, Tom tried to enlist in the U.S. Air Corps, but was rejected because he was color-blind.
Service Time: Tom was drafted and entered the service on July 17, 1944. He had just celebrated his 19th birthday and both he and a close friend, Richard Spezialetti, traveled to Pittsburgh to be inducted. They then traveled by train to New Cumberland, PA, where they received basic training. From there, Tom was transferred to Fort Sill, Oklahoma, to their Field Artillery School. When the training was completed, their entire group was sent to New York where they boarded a ship headed for France. During the voyage, a German submarine was detected coming towards them, so the ship was re-routed to Scotland. From Scotland, a train carried the group to the White Cliffs of Dover in England. Much of their movement was done at night due to the constant threat of air raids. Under the cover of night, the group boarded a landing craft, which carried them to France. From there they all walked to Belgium until they reached a freight train, which they boarded and it eventually delivered them to their new unit, the 692nd Tank Destroyer Battalion.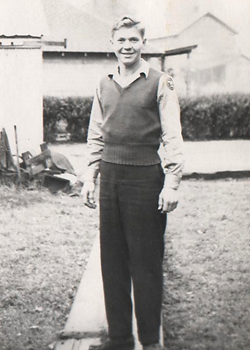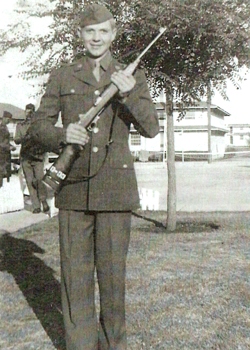 The men were replacements for the 692nd, which had taken many combat losses. Tom was assigned to C Company and sent out to search for, and capture, German soldiers. He also searched homes and buildings for German weapons, which they then piled in central locations to be destroyed. The 692nd was involved in liberating the prisoners at Dachau and Tom was sent for duty at Berchtesgaden, which was Hitler's fortified mountain chalet in southeast Germany. He remembers that while there, he and a couple of his buddies saw an elevator. When they investigated, they saw that it was broken. They decided to go up the mountain and see if there was another way inside. Once at the top they found a doorway and when they looked inside they saw many pieces of beautiful artwork and paintings. The men walked out and were told by a a Lieutenant that they weren't allowed in there and had to go.
After hostilities ended, the personnel of C Company assisted with the transportation of displaced civilians back to Italy. The battalion eventually regrouped back in France and then shipped back to the U.S. in 1946.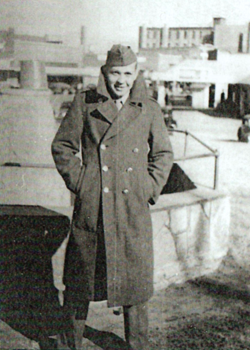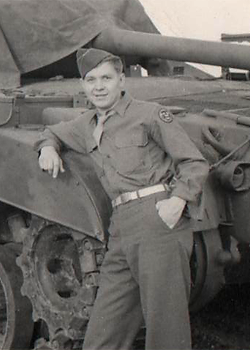 Tom was sent to Camp Swift, Texas, where he worked as a Supply Clerk and assisted a Captain in disbanding the battalion. From there, he was transferred to Washington State and then to Fort George G. Meade, Maryland, where he was honorably discharged in July 1946. He had reached the rank of Corporal. Tom received the European-African-Middle Eastern Campaign Medal with one campaign star for Rhineland, the American Campaign Medal, World War II Victory Medal, Army Occupation Medal – Germany and the Good Conduct Medal.
Tom returned home and quickly received his G.E.D. He then studied and became an Auto-Body repairman apprentice for 3 years through the V.A. benefits program. During the program he worked at W. A. Nolte, a Studebaker Dealership in Coraopolis, PA. He later held down jobs as a truck driver, bus driver, and as an auto mechanic employed by the Fort Pitt Company. They sent him to Canada and the North American Command, which was serviced by the U.S. There, he updated all the airport machinery.
On November 28, 1947, Tom married the former Mary Jane Hyde, who was the daughter of John Hyde and Sarah Cleaver. The couple had 5 children, Linda, Cheryll, Darla, Kathy and Frank.
Tom later worked for Mitchel Buick in Sewickly, PA, until he was almost killed in a work accident in 1957. The accident did leave him paralyzed for more than a year, but Tom's perseverance helped him to recover and go on to attend college for accounting in both Pittsburgh and Arizona. During that time, Tom found one of his childhood friends, Harry B. DeShong, living in Arizona. Harry managed a U-Haul shop in Glendale and asked Tom to work for him. Tom retired in 1976 due to the increasing difficulties from his earlier accident.
On July 15, 2003, Tom married the former Theo Conour, and they lived in Silver Springs, Florida. Sadly, due to health issues, the marriage ended after only a few years and Tom has since moved in with his daughter Kathleen, who lives on a small farm in Utah. At the time this article was written, Tom has been blessed with 14 grandchildren and 21 great-grandchildren.
I want to thank Tom for his service to this country and wish him long life and happiness. I want to thank Tom's daughters, Darla, Cheryll and Kathleen, for their assistance with this tribute.