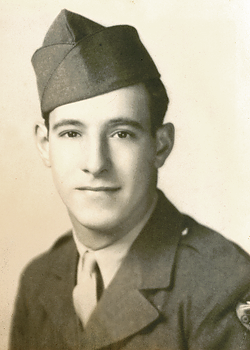 Leo L. Murray
Biography: Leo L. Murray was born on December 30, 1921. He was the son of George Murray and Ione Jennie Baldwin of Tomah, Wisconsin. Leo attended local schools and worked as an elevator operator prior to WWII.
Service Time: Leo entered the service and was assigned to the 814th Tank Destroyer Battalion, serving as a TD Commander with them throughout Europe. The unit saw action around Metz, France, and Holland, then supported Ninth Army's drive toward the Roer River. They then transferred with the 7th Armored Division to the Ardennes and participated in the defense of St. Vith. Next was crossing the Rhine River at Remagen and helping reduce the Ruhr Pocket during the drive to the Elbe River. The 7th Armored's exploits were noted in an article in the Stars and Stripes newspaper for Nov. 6, 1944.
In an article published in a St. Paul newspaper, Leo is identified as being one of two men from the St. Paul area that were described as "Tank Destroyer Aces" of the 814th. The article goes on to highlight his actions against German armor. For his achievements, Leo received the Silver Star for Gallantry and Croix de Guerre's from both France and Belgium. He received the European-African-Middle-Eastern-Theater Medal and a Purple Heart for wounds he suffered. Leo reached the rank of Sergeant before leaving the service.
When Leo returned to the U.S., he made his residence in his home state of Minnesota. He lived in the St. Paul area and worked as a truck driver He married the former Mildred Henrietta Jaworski, who was the daughter of Robert C. Jaworski and Olive Martineau of St. Paul. The couple had two children, Timothy in 1946 and Kathleen in 1950. Leo was a member of the VFW.
Leo passed away on January 29, 2011, and was buried at the Evergreen Memorial Gardens in Mahtomedi, MN. I want to thank Leo's son, Tim, for providing this information and photo.