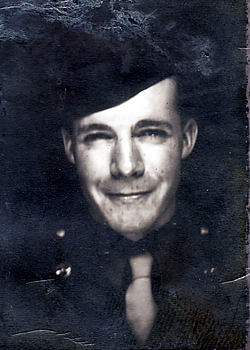 Andy C. McEuen
Biography: Andy Carlson McEuen was the eleventh of fourteen children born on December 16, 1921, to Marion McEuen and Ivy Holladay in Stafford, Arizona. Andy got his name from a neighbor who told Marion he would give the baby a heifer if they named him after him. This seemingly small gift was nurtured and protected on their cattle ranch in Eastern Arizona.
Andy learned all about being a hard working cowboy, and a hard working student. After he graduated from Safford High School at the age of 16, he attended Gila Jr. College and then the University of Arizona. He had nearly 300 head of cattle, from that one heifer, that he could use to pay for his education. While at the U of A in Tucson, Arizona, Andy continued to use his cowboying skills on the school's rodeo team.
Andy moved to Los Angles and worked for Paramount Pictures. While there he met up with his high school sweet-heart, Helen Ferguson. They were married on May 12, 1942, at Wee Kirk of the Heather in Glendale, California. Less than a year later he was drafted into the Army to fight in Europe in World War II.
Service Time: Andy's leadership skills were quickly recognized as he was promoted to serve as a tank destroyer commander in Company A of the 821st Tank Destroyer Battalion. After preparing in America and Northern England he landed on Omaha beach immediately after D-day in his Tank Destroyer and traveled through France, Belgium, Holland and into Germany. He was awarded the Bronze Star for rescuing his men from a burning TD and many more medals given by the citizens of France for his part in their rescue from the Nazis.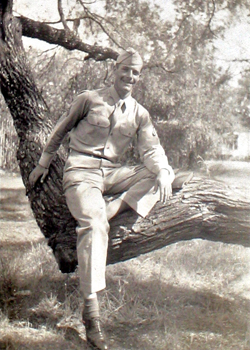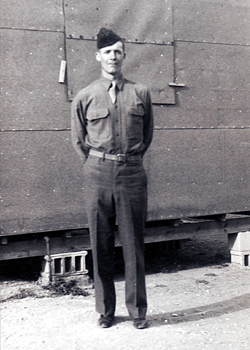 The left photo shows Andy on the Campus of Mary Hardin Baylor in Belton, Texas, as a Corporal. The right photo shows him at Camp Bowie, near Brownwood, Texas.
Andy returned to the Los Angeles area in 1946 and became a student at the University of Southern California. While in his first year of Law School, he decided to return to his first love of teaching. Using his business degree he taught Business Education at Oxnard High School in 1949. On weekends he continued to use his cowboy skills at the local rodeo in Northern Oxnard. He laughingly explained that he could make more on the weekends from the prize money than he could all week from teaching.
Andy and Helen would have two children, a daughter Linda born in 1946 and a son Scott. In 1951 he formed the ROTC Cadet Corp and became the Commandant of Cadets. He later became the Attendance Officer and then the Vice Principal of Oxnard High School.
In 1958, Andy became the first Principal of Hueneme High School. He quickly learned the names of every student at his school. This skill helped him to earn the students respect as he greeted each one by name in the mornings and discouraged unwanted behavior, as he was able to call the culprit by name when they were asked to stop what they were doing. Andy always believed in excelling in all that he did, in going the extra mile and doing more than was required of him.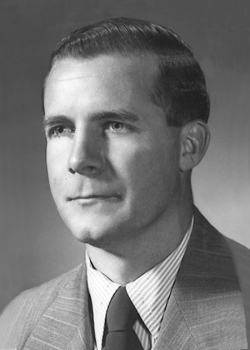 In 1968 Andy became the Assistant Superintendent of Oxnard Union High School District and Superintendent in 1973. He used all the skills that he had been developing throughout his life, starting on the ranch, through his military service, and years as an educator: courage & strength; organizational and leadership skills.
Throughout his career he has touched many lives. A former cadet student came to him about a job after finishing college. After an interview, he hired Chuck Stevenson, who then taught at Camarillo High School for nearly 40 years. That respect, earned while a young teacher, also caused Chuck great joy in welcoming Andy's grandson, Chad, into his family when he married one of his six daughters.
During his retirement, Andy continued to educate those around him. He was a popular guest speaker at Scouting, Schools, and American Legions. He was constantly asked to attend High School and family reunions as an honored guest.
Whenever any of his thirteen grandchildren are struggling though a problem, he would find newspaper and magazine articles to help them find a solution. When they are looking for work he sat down with them and counselled them on resume writing and interview techniques. Andy's grandson, Chad Meyring, is now a third-generation teacher at Oxnard High School and would his grandfather to come to his class and speak to his students about professionalism and job searching skills.
Andy was a life-long educator who was greatly admired and respected for his many accomplishments and for the strength of character that others have looked to as an example. He was also active in the LDS Church and held various positions, including seminary teacher, bishop and a councilor in the Ventura LDS Stake Presidency.

Andy passed away on August 9, 2016, and was buried in the Spanish Fork Cemetery, Spanish Fork, Utah. I want to thank Cate Meyring for providing the text written above. Since Andy's death, the article has been updated to include information from his obituary. Cate also provided information and other materials and photos of Andy and the men of his unit, which are posted in the 821st Photo Gallery. Thank you to Annie Duckett Hundley for the later photo of Andy and to John Warnke for the grave marker photo.