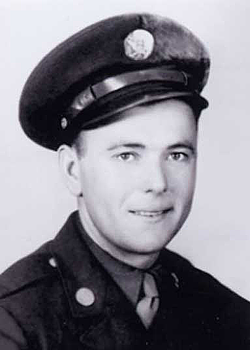 Ralph C. Miller
Biography: Ralph C. Miller was born on March 28, 1919, in Tiffin, Ohio. He was the son of Aaron Miller and Nina Biller and attended various schools since his family worked as share croppers. When he was old enough, Ralph went to work in the mills. On March 25, 1944, Ralph married the former Katherine Martin. She was the daughter of Jacob and Marie Martin of Floyd County, Kentucky. The couple made their residence in Bellevue, Ohio.
Service Time: Ralph entered the service on December 16, 1942, and was assigned to the 807th Tank Destroyer Battalion, which fought in Metz and attacked toward Saarlautern in November and December. They battled the German Nordwind offensive in January, 1945, then shifted north for the offensive to the Rhine. They defended Rhine River bridges in the spring and converted to the M18 in time to join the drive through to Bavaria late in the month. He received the American Campaign Medal, European-African-Middle Eastern Campaign Medal and the WWII Victory Medal. Ralph was honorably discharged on October 30, 1945, at the rank of Technician 5th Grade.
When Ralph returned from the service, we went to work for the Nickel Plate Railroad. In his spare time, he enjoyed being with his family, which grew to include two sons, Richard and Ron and three daughters, Wanda, Susan and Melody. He also enjoyed the outdoors and especially hunting and fishing. Mechanical work was also a passion of his.
Ralph passed away on May 9, 2006, and was buried in Bellevue, Ohio. I want to thank his son, Ron, for providing this information and photo of his father.