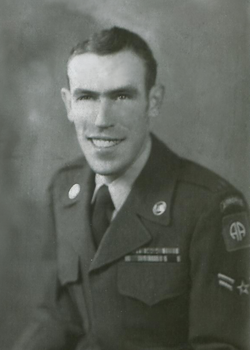 George C. Morrison
Biography: George Cline Morrison was born on March 29, 1919. He was the son of Charles Bronson Morrison and Iola Coburn of Princess, Kentucky, in rural Boyd County. George left school after the 7th grade and worked in the CCC (Civilian Conservation Corps) fighting fires in California. This particular job had him jumping out of planes in remote locations to fight fires. He would later work as a carpenter's apprentice.
Service Time: As you can see from George's photo, he spent some time in the Army Air Corps as an Airman First Class. We have no explanation for this as his discharge does not mention it but George's skills in nighttime parachute jumping did have him training soldiers for jumps over Europe. He also provided training of motorcycle operation over various types of terrain. His motorcycle expertise was from his days fighting fires. Motorcycles were used to scout out the size and path a fire might go and to quickly get men into areas not accessible by a larger vehicle. The photo below shows George on the far left, seated on one of the motorcycles.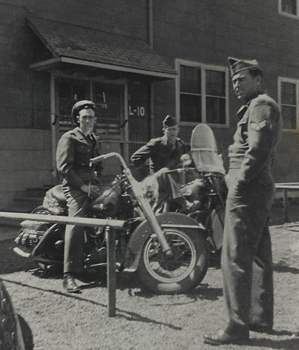 George shipped out to the ETO on September 4, 1944, landing later that month. He was eventually assigned to the 643rd Tank Destroyer Battalion and he remained with them, receiving credit for their three campaigns, Rhineland, Ardennes-Alsace and Central Europe. He returned to the U.S. on July 5, 1945, and left the service in October from Camp San Luis Obispo, California. His highest rank was Technician 5th Grade.
In the Spring of 1948, George married the former Thelma Francis Little. She was the daughter of Clarence Little and Ethel Mae Barney of Greenup County, KY. They were married in Ashland, KY, and he lived the rest of his life there employed as a Sanitation worker. He also had responsibilities for lowering and raising the flood-walls. In his spare time, George worked on cars, which was more out of necessity than a hobby. The couple had three boys and a girl, Douglas born in 1949, Sandra in 1951, George Jr. in 1955 and Anthony in 1963.
George passed away on January 12, 1994, and was buried two days later in Coalton Cemetery in Boyd County, Kentucky. He was buried quickly before the ground was frozen too hard to dig. He always hated the cold and said that it "chilled him to the bone". George's friend, the Pastor that served at his funeral, died of pneumonia less than a week later.
I want to thank George's daughter-in-law, Sylvia, for providing this information and photos.