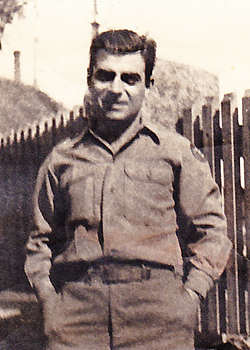 Anthony R. Mitchell
Biography: Anthony R. Mitchell was born on July 26, 1914, in Clearfield, Pennsylvania. He was the son of Frank Mitchell and Tindara Spinella. Anthony dropped out of high school to work as an auto mechanic and help support his family.

Service Time: Anthony entered the service on January 8, 1944, at Allentown, PA. At the time, he had already married the former Mary E. Rinaldi and the couple had two daughters. Anthony went through basic training and was assigned to the 773rd Tank Destroyer Battalion, which had already shipped to England. The unit saw action in the Falaise Pocket and during their advanced to the Moselle River sector via Paris. They fought at Luneville and the Foret de Parroy and supported the capture of Metz. They joined operations against the Siegfried Line along the Saar River in December and were ordered to the Ardennes in January of 1945. They fought through the Siegfried Line again and reached the Rhine River at Koblenz in March. Then they crossed the Rhine at Oppenheim and helped capture Darmstadt and Frankfurt before driving across Germany to Czechoslovakia.
In addition to Anthony, his three brothers, Joe, Christmas and Nicholas, also served in WWII. Nick was killed in the Battle of the Bulge. When Anthony left the service, he had the rank of Technical Sergeant.
When Anthony returned to the U.S., he went back to auto mechanics. He became the owner and operator of Mitchell's Service Station and made his residence in Sinking Springs, PA. He and Mary also have their third child, a son.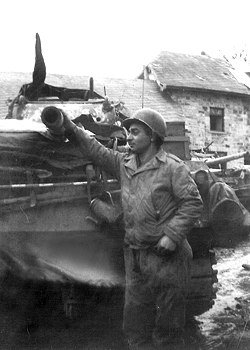 The photo on the left shows Anthony at the barrel end of his M10 tank destroyer, somewhere in Europe. The photo below left shows him some 60+ years later, standing next to an M36, at the World War II Weekend, held in Reading, PA. The 773rd converted to M36s in March of 1945.
Anthony passed away on May 6, 2011, and was buried in the Gethsemane Cemetery located in Reading, PA. I want to thank Anthony's Great-Grandson, Charles Carey, for providing this information and the photos. I also want to thank John L. Bachman Jr. of the Topton Legion Post 218 Honor Guard, who served at Anthony's services and contacted me about Anthony and his service in the Tank Destroyers.