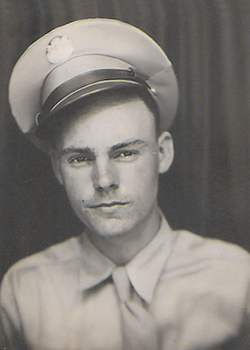 Poovey Mackey
Biography: Poovey Mackey was born on August 4, 1925, in Lancaster, South Carolina.

Service Time: Poovey entered the service on April 1, 1943, and was assigned to the Medical Detachment of the 628th Tank Destroyer Battalion, picking up the nickname "Doc". He shipped with the unit to England on the Aquitania and remained with them throughout their time overseas. He was awarded the Purple Heart for wounds he received.
He remained in the service after WWII and was stationed at various posts, including Puerto Rico. He left the service on November 19, 1948, at the rank of Corporal.
After he left the service, Poovey worked in the textile and springs mills. He married and the couple had one daughter, Sue, and three sons, Allen, Scott and Robin. In addition to spending time with his family, he is a member of the Masons.
I want to thank Poovey for his service to this country and wish him long life and good health. I want to thank his daughter, Sue, for providing this information as well as the photos of her dad.