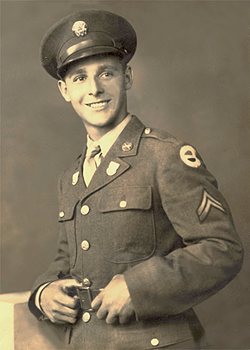 John J. Martinelli
Biography: John Joseph Martinelli was born in 1919, in Brooklyn, New York.

Service Time: John joined the New York Guard at Brooklyn in 1939. Just before his term of service was up, war was declared and the New York Guard was federalized. He was among the core group experimenting with the idea of a Tank Destroyer Division. He served from 1939-1945, becoming a TD Commander and then a Platoon Sergeant with 2nd Platoon, C Company, of the 771st Tank Destroyer Battalion. John shipped out with the unit in December of 1943, arriving in Wales in January of 1944. The 771st was chosen to train all the TD troops in the replacement system of the ETO. They were finally released for combat themselves and C Company earned a Distinguished Unit Citation for actions during November of 1944 at the town of Immendorf, Germany.
John personally received the Good Conduct medal, American Defense Service medal, European-African-Middle Eastern Campaign medal with two campaign stars, the American Campaign medal, WWII Victory medal and the Army of Occupation (Germany) medal. He was also offered a field commission to stay in the Army after the war was over, but chose to come home. He left the service at the rank of Staff Sergeant.

John married his sweetheart a few days before shipping overseas and they were separated for two years before his return. They later had two daughters and were happily married for more than 50 years. Through their courtship and for the duration of the war, his wife worked at the radio division of the Office of War Information in New York City. The couple settled in the suburbs of Levittown, NY, which was a new concept for a community geared toward returning GIs. They later moved further east on Long Island. John furthered his education by attending college under the GI Bill at night while working in the aerospace industry during the day. Among his most rewarding job experiences was working on the design of the Lunar Module and seeing the safe return of Apollo 13.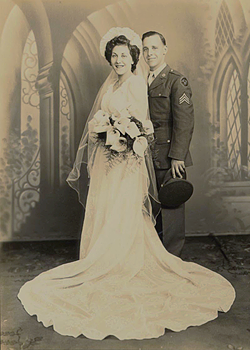 In his spare time, John enjoyed woodworking as well as bowling and golf. He died the summer of 1993 and was buried at Calverton National Cemetery in Long Island, NY. I want to thank John's daughter, Joan, for providing this information and photos of her father as well as materials on the 771st.