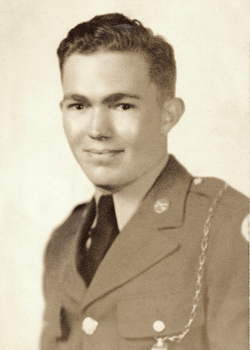 Herbert A. Mohler
Biography: Herbert Alton Mohler was born in New Straitsville, Ohio, on June 21, 1917. He was the son of Daniel Hufford Mohler and Marinda Ethel Rush and attended public schools in Galva, Illinois. He graduated in 1934 and went to work for a relative in the salvage business. Alton, as he was known, also joined the National Guard.

Service Time: Alton entered the Army on March 5, 1941, and was assigned to A Company of the 823rd Tank Destroyer Battalion. He took part in the Tennessee maneuvers before being stationed at Camp Hood, Texas. While he was in Texas he met his future wife, Mary Virginia Dixon, who was from Killeen, TX. She was the daughter of James William Dixon and Iona Ann Morgan. The couple were married on October, 31, 1942.

Alton shipped with the unit from the Boston port on April 6, 1944, and participated in there five campaigns. "A" Company was specifically honored for their participation in the Battle of Mortain on August 6th and 7th of 1944 as part of the 30th Infantry Division. Alton left the service at the rank of Sergeant.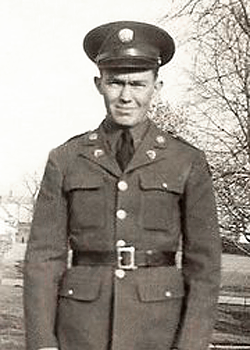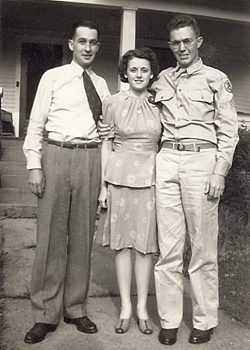 The photo on the right above shows Alton with two of his cousins.
Alton came home to the U.S., making his residence in the Springfield area of Illinois. He returned to the salvage business but soon left to work at International Harvester as a mechanic. Alton and his wife moved to the Rock Falls/Sterling area where they had their first child, Carolyn, born in 1946. The family then moved to the Killeen area of Texas where Alton worked at Camp Hood as a mechanic and later an inspector as part of the Civil Service. The family grew rapidly with the birth of twin sons Daniel and Donald, born in 1952. Alton retired from Camp Hood, now Fort Hood, in the late seventies.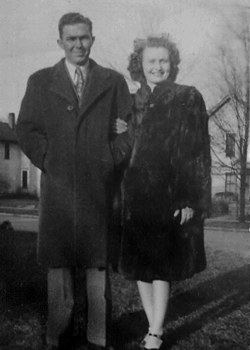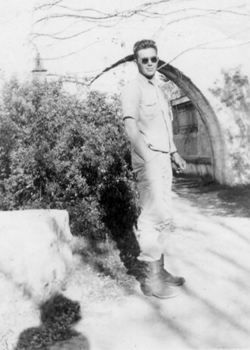 The photo above left shows Alton and his wife Mary at some point after the war. The photo above right shows Alton in a more relaxed time.
In his spare time, he enjoyed hunting and fishing and was a member of the Masons and Eastern Star organizations. Alton passed away on November 10, 1982, and was buried in Killeen. I want to thank his son, Donald, and daughter Carolyn, for providing this information and photos of their father and family.