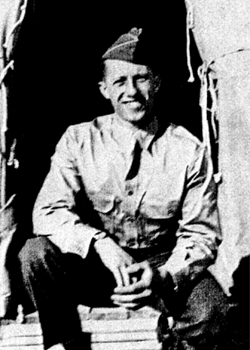 Clair E. Murray
Biography: Clair E. Murray was born June 22, 1919, in Goodyear, Pennsylvania. While living in Gardners, PA, he was employed as a carpet loom weaver for C.H. Maslands & Sons.
Service Time: Clair entered the service on February 9, 1942, at New Cumberland, PA and received his basic training at Camp Polk, Louisana. He was assigned to Company A, 3rd Platoon, of the 703rd Tank Destroyer Battalion and functioned as a gunner in one of the unit's M10's. He was transferred to Fort Hood, Texas, for additional training, and then to the Mojave and the Desert Training Center, California. From there it was on to Camp Pickett, Virgina, and Indiantown Gap, PA, before proceeding to Camp Kilmore, New Jersey, for final preparations and the voyage to England.
Clair shipped oversees with the unit in September of 1943 and spent 9 months training in England before landing at Normandy. His journey across the English Channel took several days on a barge before landing. A thunderstorm protected him and his outfit, all of whom all made it safely to shore. Their first mission involved a German pillbox which he successfully knocked out. From Normandy, the 703rd participated in the Cobra breakout and fought their way to the Siegfried line by September. Clair was among the first soldiers to cross into Germany but was wounded by shrapnel in the neck and back. He was treated for these wounds but never received recognition for them.
The following excerpt was from the 703rd's after-the-war newsletter, "703rd Roadblock", discussing the period Sept. 14-20, 1944:
"The Third Platton joined TFX (Task Force "X") in our place, and has had casualties, Sgt. Daniel, the platoon sergeant was seriously wounded, Joe Haselrick was lightly wounded as was Clair Murray, but Clair remained with the platoon."
Clair's platoon was also among the first units to receive the new M36 Tank Destroyer. During the Ardennes offensive, his unit joined in defense of a key bridge crossing, helping to thwart the advance of the SS armor. They would also support the allied counteroffensive to reduce the bulge.
They continued to fight their way across Germany and were involved in the drive to Cologne, among numerous other towns and cities, and became heavily engaged with the enemy at the Ruhr pocket. Just outside of Paderborn, Germany, on April 1, 1945, Clair earned a Bronze Star. He witnessed a Sherman tank take a direct hit and two soldiers were badly wounded and unable to move. With no medical men in the area, Clair, and Pfc. Herbert W. Drumbeller, crawled out, exposed to enemy antitank and artillery fire and disregarding their own danger, to evacuate and treat the wounded. His award stated, "They undoubtedly saved the lives of two American soldiers and did not impede the advance of their units in doing so".
Clair was discharged on October 7, 1945, at Indiantown Gap, PA, having participated in the Normandy, Northern France, Rhineland, Ardennes-Alsace, and Central Europe Campaigns. In addition to the Bronze Star, he received the Good Conduct and the EAME Theater Medals. He left the service at the rank of Corporal. Clair later wrote in a biography for the 3rd Armored Division, Spearhead in the West; "With so many experiences and close calls, it makes it impossible to put it into so few words".
As indicated by his discharge paperwork, prior to leaving the service Clair, was transferred into C Company of the 25th Armored Engineers Battalion. This was a common practice as units were broken up and men with enough points were sent home. Those who were left were sent to other units.
Discharge Record – Clair E. Murray
Clair brought home a number of items from his time in the service, including guns, military pins and various other items. You can see photos of a few of them below.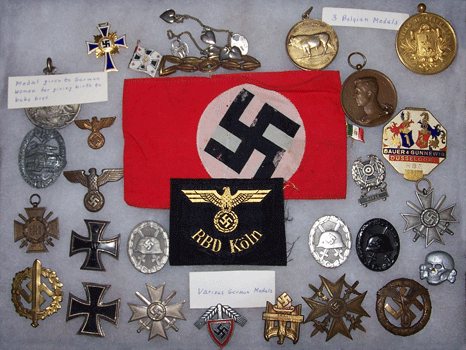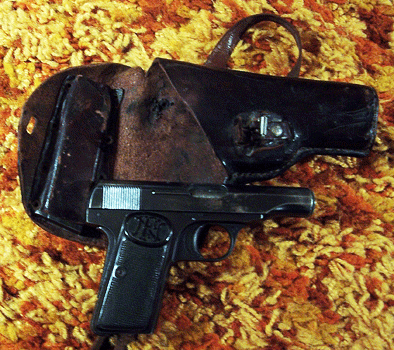 When Clair returned to the states, he also returned to his former job at C.H. Maslands & Sons and worked there for a total of 45 years. He married the former Glenna Beam and the couple made their residence in Gardners. They had one son, Arthur, and a daughter, Elaine. At the time of this writing, he has four grandchildren, Angela, Jason, Kelly and Emily and one great-grandchild, Cole.
Clair was also a member of the Tank Destroyer Society. He passed away in 1996, and was buried in PA. I want to thank Clair's grandson-in-law, Greg, for this information and photos.