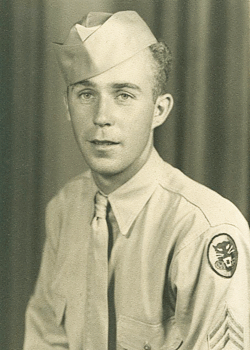 Kenneth H. Mallen
Biography: Kenneth "Kenny" Harry Mallen was born on January 17, 1921, on Long Island, New York. He was the son of Harry Mallen and Jessie Davis and attended Pawling High School through the 10th grade.
Service Time: Kenny entered the service on December 12, 1941, in New York City and after his basic training was assigned to the 658th Tank Destroyer Battalion. While stationed at Fort Ord, California, the unit was redesignated as the 658th Amphibian Tractor Battalion and sailed from the San Francisco Port on September 23, 1944. They landed in New Guinea, then New Britain Island, and later onto the Lingayen Gulf, Philippines. The unit remained in the Pacific receiving credit for four campaigns, Bismarck Archipelago, Leyte, Luzon and Southern Philippines.
Kenny would distinguish himself by earning a Bronze Star, the American Service Medal, Good Conduct Medal, WWII Victory Medal, Asiatic Pacific Service Medal and the Philippines Liberation Medal with one Bronze Service Star. He left the service at the rank of Technical Sergeant.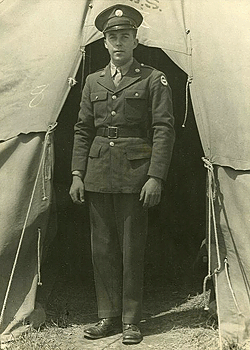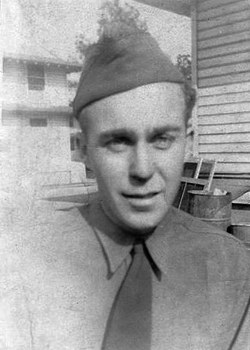 When he returned to the U.S., he went to work for the Green Haven Correctional Facility as an Automotive Mechanics Instructor. He later went back to school, SUNY (State University of New York) at New Paltz, and received his teaching certification.
On April 13, 1953, Kenny married the former Helen Kernaghan who was the daughter of John Wallace Kernaghan and Sarah Mary Jane Hughes. Helen was born in Green Haven, New York, but the couple made their residence in Poughquag, New York. Together they would have three children, Teri, born in 1955, John in 1958 and Sue in 1964.
When he wasn't spending time with his family, Kenny could be seen fighting fires with the Beekman Fire Department in which he has served for over 80 years. For 26 of those years, he held the position of Fire Chief and also served on the Board of Commissionaires for some period. On September 14, 2009, a Kenneth Mallen Day was proclaimed and he was presented with a plaque. In the photos below, you can see the sign at the fire station and Kenny accepting one of about 10 awards he received that day. Obviously, his spirit of service went far beyond his days in the 658th.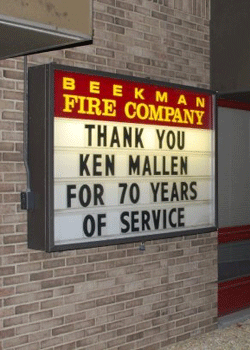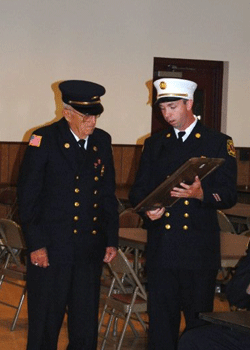 Some of Kenny's other hobbies included hunting, fishing and snowmobiling. In the photo on left, Kenny is shown kneeling, front right, with the only good buck of the bunch. Kenny served on the Town of Beekman Zoning Board of Appeals and was a member of the Harlem Valley Masonic Lodge 358.
Kenny passed away on November 4, 2021, at the age of 100.
I want to thank Kenny's daughter, Sue, for contacting me and providing the photos and information about her father.