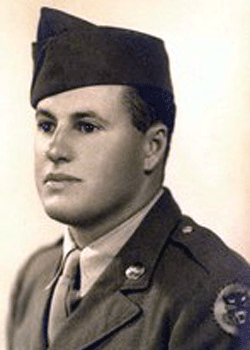 Cecil H. Marshall
Biography: Cecil Hamilton Marshall was born on May 21, 1919, in Deale, Maryland. He was the son of Robert Alphonso Marshall and Rosa Ella Rodgers and attended school in Deale and Southern High School in Lothian, MD. After graduation, he worked as an oysterman and later at the Glen L. Martin Bomber plant in Baltimore, MD.
Service Time: Cecil entered the service on December 26, 1942, at Baltimore, MD. A few months later, on June 18, 1942, Cecil married the former Mary Alice Ward. She was the daughter of Amos H. Ward, Sr. and Annie E. Petherbridge and was born in McKendree, MD.
Cecil was assigned to the Reconnaissance Company of the 691st Tank Destroyer Battalion and was with them during maneuvers in Louisiana and Camp Claiborne, LA, in 1943. They shipped to England on Jul. 26, 1944, and then on to France, arriving on Aug. 1. Seeing action in Lorraine in September, they were then transferred to the Ardennes in December. Moving south, they joined operations in the Saar region in February and March of 1945. Originally a towed battalion, the 691st converted to M36s later that month. The unit moved across Germany and reached Limbach in April. When he left the service, Cecil had reached the rank of Staff Sergeant.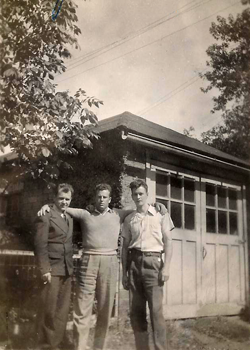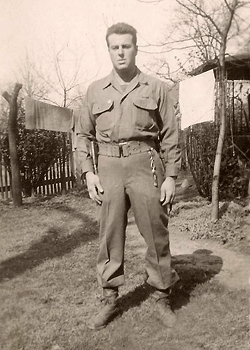 The photo above left shows Cecil while in Germany in 1945. The photo above right shows Cecil and two friends from Recon. Company in 1946. George Gresock is on the left, Cecil in the middle and Henry Peresie Jr. on the right. George was from Punxsutawney, Pennsylvania. and Henry was from Kittanning, PA. The photo below shows Henry sitting on the left with Cecil in 1950.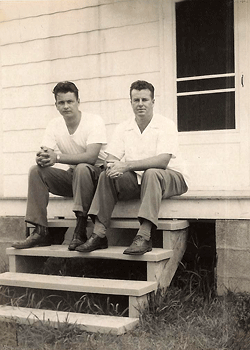 When Cecil returned to the U.S., the family made their residence in Deale and Cecil worked as a plumber's helper. He later worked at the U.S. Census Bureau in Suitland, MD. When he retired, he was the Manager of their Clerical Unit. The couple had four children, Dennis, Donald, Debra and Carol. When Cecil wasn't working or spending time with his family, he enjoyed fishing, boating and watching the Baltimore Orioles.
Cecil passed away on January 13, 1998, and was buried at the St James Church Cemetery in Lothian, MD. I want to thank Cecil's daughter, Debra Marsh, for the information and photos of her father and the 691st.