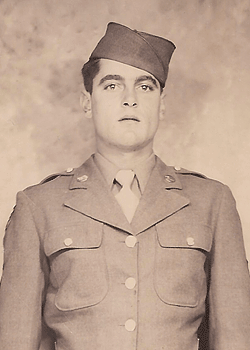 Ivan B. Madsen
Biography: Ivan Bert Madsen was born on May 11, 1922, in Aurora, Utah. He was the son of George S. Madsen and Effie May Mason and attended Aurora Elementary and North Sevier High School. After leaving school, Ivan found work as a farm hand.

Service Time: Ivan entered the service on January 9, 1943, at Fort Douglas, Utah, and was assigned to the 823rd Tank Destroyer Battalion, Company B, 2nd Platoon. He trained with them at Camp Bowie and Camp Hood, Texas and Camp Claibourne, Louisiana. The 823rd landed at Omaha Beach on June 24, 1944, and participated in the battle at St. Lo in July and against the German counterattack at Mortain, France, in August. Company B earned a Distinguished Unit Citation (PUC) for actions near St. Barthelemy, France, on August 7, 1944. The unit moved east and fought in the battle at Aachen, Germany, with Ivan earning a Silver Star for actions during the period October 10-12, 1944. Instead of the expected leave at Christmas, they were sent to the Ardennes where they were involved in heavy fighting thru January, 1945. With the unit moving east again, Ivan earned a Bronze Star for actions on March 27, 1945, while destroying a German roadblock manned by SS personnel. The 823rd reached the Elbe River by mid-April and thereafter performed occupation duties. He left the service at the rank of Technician 5th Grade.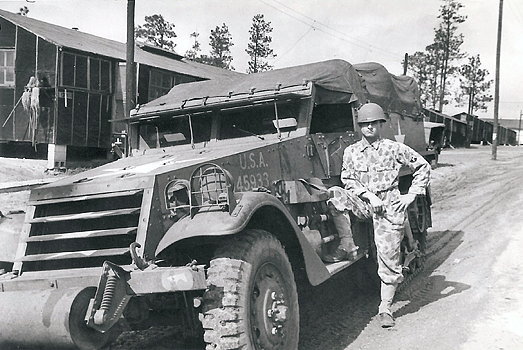 The photo above shows the M3 Half-track Ivan drove while stationed at one of the training camps. The photo directly below shows Ivan receiving his Bronze Star from Brigadier General James S. Lewis, Field Artillery, Commanding General, 30th Infantry Division. The location is Falkenstein, Germany, on June 25, 1945.
Award of Silver and Bronze Stars – These are excerps from the full list of personnel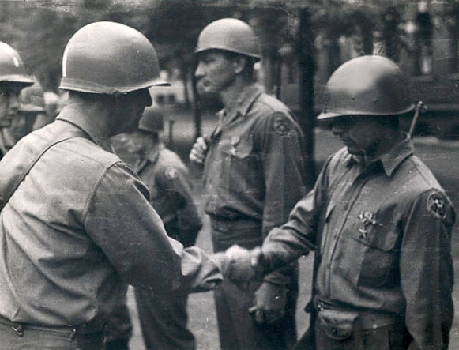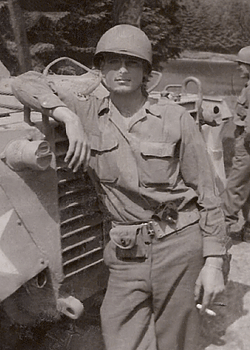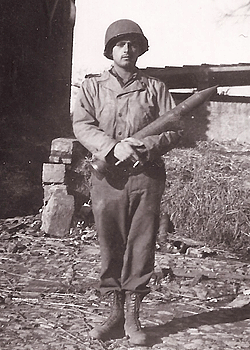 My WWII Memories by Ivan B. Madsen
When he returned home, Ivan went back to work as a farm hand which led him into farming and then into turkey farming. He later worked as a Foremen for U.S. Gypsum and retired from there after 30 years of service. On May 31, 1946, Ivan married the former Nola V. Christiansen. She was the daughter of Carl Christiansen and Nettie Arlena Bridges and was born in Monroe, Utah. This new couple made their residence in Aurora and together had 7 children, Hal born in 1948, Cathy in 1951, Patricia in 1953, Craig in 1955, Susan in 1958, Darla in 1963 and Carolyn in 1967. In his spare time, Ivan enjoyed a number of outdoor activities including, trapping, hunting, camping and gardening. He also enjoyed woodworking. Ivan was particularly passionate about horses and was a member of the Salina Riding Club.
Ivan passed away on March 10, 2005, and was buried in Aurora. At the time this article was written, Ivan had 25 grandchildren, 36 great-grandchildren and 4 great-great grandchildren. Ivan was always very proud to be an American and to have served his country.
I want to thank Ivan's daughter, Darla, for providing this information and photos of her father.