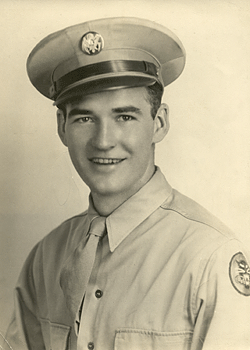 John W. Minogue
Biography: John W. Minogue was born on February 16, 1917, in Fair Haven, Vermont. He was the eldest son of eight children born into a proud Irish-Catholic family of Michael Minogue and Mary Bonville. He attended local schools in Fair Haven.

In 1860, when John's grandfather was only four, his family emigrated from Ireland to New York. The family settled in Poultney, VT and worked in the local slate quarries for many years. John's father, Michael, later owned a successful saloon and inn that was tragically destroyed by a fire in 1918. When John's father died in 1930, the family moved from Fair Haven, VT to Narragansett, Rhode Island. John resettled to Washington, D.C. in 1941 to work in real estate and attended Ben Franklin University, receiving a degree in Accounting.

Service Time: John joined the Army on December 30, 1942, and entered into active service on January 6, 1943, at Fort Myer, Virginia. He was assigned to Company C of the 691st Tank Destroyer battalion and received special training at Camp Hood, Texas, as a radio technician in 1943 and radio repair in 1944. On December 27, 1943, while on leave from the unit, he married his sweetheart, Frances.
The 691st landed in France, late in August of 1944, equipped with towed 3 inch guns. They first saw action in Lorraine and then proceeded to the Ardennes. They moved south to the Saar region of Germany in March and April and converted to M36s before moving across Germany to Limbach. The unit received credit for campaigns in Northern France, Rhineland, Ardennes-Alsace and Central Europe. John received credit for each of the campaigns and was awarded the Good Conduct Medal, American Theater Medal, EAME Medal and WWII Victory Medal. He was discharged from the service on December 22, 1945, at Fort Meade, Maryland, at the rank of Technician 4th Grade.
In addition to John, younger siblings Charles, Frank and Katherine all served in the Army during WWII.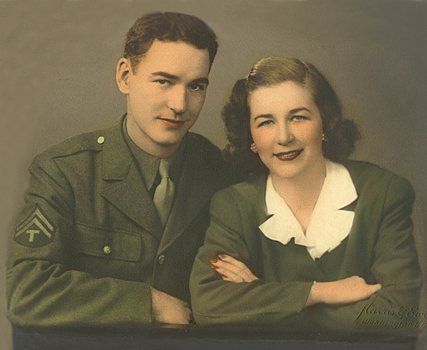 A photo of John and Frances, sometime in 1943.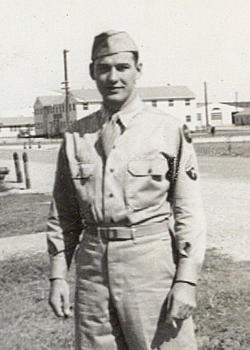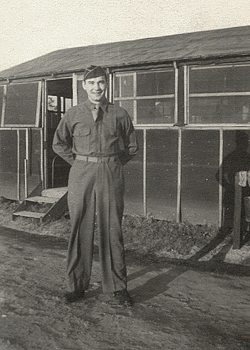 An early photo of John, at left, possibly at Camp Hood, TX. The photo at right is possibly at Camp Claiborne, Louisiana. Both photos are probably from 1943.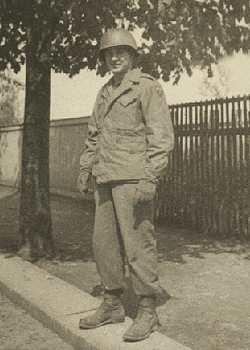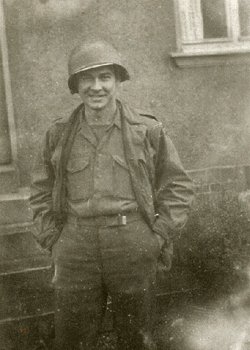 Two photos of John taken in 1944 or 1945 while in Europe.

After the war, John worked as an accountant and also as an office manager while his family grew to include five sons with Michael born in 1946, Patrick in 1950, John Jr. in 1951, Matthew in 1954 and Jeffrey in 1961. The family continued to reside in Washington D.C. In his spare time, John enjoyed numismatics (coin collecting) and playing golf. He was a member of the VFW and American Legion in Wheaton, MD.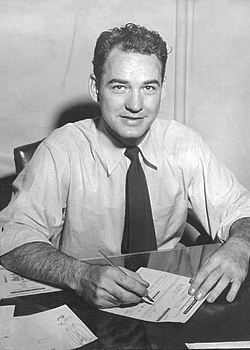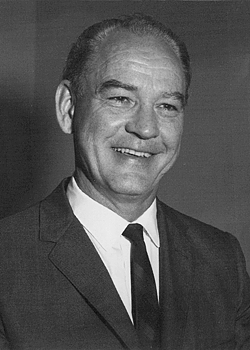 The photo above at left is John at his desk around 1950. The right photo is from about 15 years later in 1965. John passed away on April 30, 1990, and was buried in St. Mary's Cemetery in Fair Haven, Vermont. I want to thank John's son, Michael, for providing the information and photos of his father.