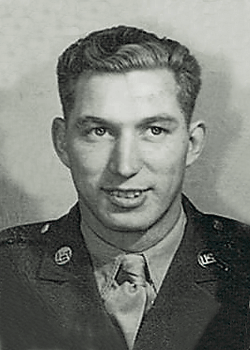 Herman F. McAfoose
Biography: Herman Findley McAfoose was born on January 10, 1919 (possibly 1920), in Kittanning, Pennsylvania. He was the son of Charles Perry McAfoose and Mary Croyle and attended local schools through the 8th grade. Prior to his enlistment, he worked as a truck driver and also as a leader in the Civilian Conservation Corps. In 1940, Herman was at Camp Potomac, Maryland, with the CCC, working as a cook.
CCC Group Photo, Cooks and Discharge

On March 4, 1942, Herman married the former Goldie Jean Barnes, who was the daughter of Charles Henry Barnes and Lottie Mae Garman. Goldie was also from Kittanning.
Service Time: Herman entered active service on March 14, 1942, and was assigned to the 608th Tank Destroyer Battalion. The 608th trained at Fort Jackson, South Carolina, but was later deactivated on December 20, 1943, at Camp Atterbury, Indiana. All personnel of the 608th were transferred to other units and Herman was sent to the 807th. He remained with the unit, shipping out on August 11, 1944, and arriving in England later that month, on the 23rd. The 807th saw action in the area of Saarlautern, Germany, and during the German Nordwind offensive. They defended the Rhine River bridges and reached Salzburg, Austria, in early May. Herman was ultimately transferred to Company A of the 804th Tank Destroyer Battalion, to finish out his service time. He was discharged from Fort Hood, Texas, on October 19th, 1945.

He received the EAME ribbon with campaigns stars for Rhineland and Central Europe. He left the service at the rank of Technician 5th Grade.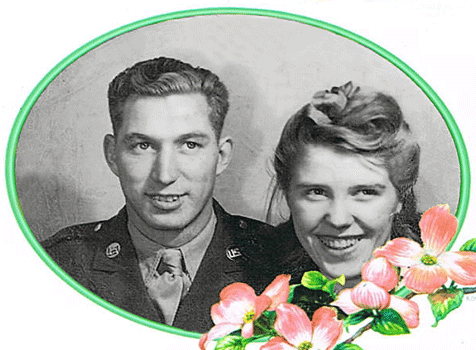 After returning to the U.S., Herman went back to Kittanning and began working at PPG (Pittsburgh Plate Glass). He and Goldie had two children, Herman Jr., who was born while Herman was still serving and Patricia, who was born after he had returned. In his spare time, he enjoyed building bird houses and he was also a member of the Moose Club. Herman worked for the PPG company until his retirement.

Herman passed away on the February 23, 1998, and was buried at the Pine Creek Baptist Church Cemetery in Kittanning. I want to thank Herman's granddaughter, Renee, for providing the information and photos for this write-up.