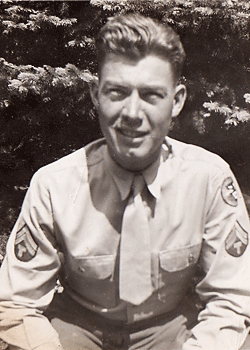 Walter L. Mallinson
Biography: Walter Lowrie Mallinson was born on October 18, 1918, in Woodhaven, New York. He was the son of Walter Mallinson and Leta Snow and attended Richmond Hill High School. After graduation, Walter spent 2 years continuing his education at Queens College, in New York City. He worked as a salesman, selling fabrics and carpeting, prior to his time in the Army. On February 5, 1941, Walter married the former AnnaLou Schacht who was the daughter of Walter Schacht and Agnes Fleuren. AnnaLou was born in Queens, NY.

Service Time: Walter entered the service on January 4, 1943, at New York City, and was assigned to Company C, of the 824th Tank Destroyer Battalion. He shipped out with the unit on October 14, 1944, landing at Marseilles, France, on October 29th. The 824th entered combat with towed 3″ guns and was first deployed near Sarrebourg, France, late in November of 1944. In December, their attention was diverted with action against the Siegfried Line. In January of 1945, they were part of the Nordwind offensive and converted to M18s in March. The unit spent additional time fighting in Heilbronn and then into Austria. They 824th received credit for the Rhineland, Ardennes-Alsace and Central Europe campaigns.
During actions in support of the 397th Infantry, on April 14th, 1945, Walter was shot in the arm and side. He, and some others from the company, had stopped at a barn to work on their vehicles. The group was ambushed, Walter was hit and another soldier pulled him to safety. While recuperating in a field hospital, the tent he was in caught fire and he almost burned to death. Walter was shipped home on June 1st, landing back in the U.S., on June 11th. He spent the next 6 months recuperating at Tilton General Hospital, Fort Dix, New Jersey, before being discharged on December 20, 1945. Walter received a Purple Heart and left the service at the rank of Technician, 4th Grade.
Walter returned to Queens, New York, and went to work for the F. Schumacher Company as a salesman of fabrics, wallpaper and decorative items. He and AnnaLou had three children, Lance, Cathy and Keith.
When he wasn't working, Walter enjoyed salt water fishing and also volunteered with the Melville Fire Department. He passed away on March 1, 1979 and was buried in the Melville Cemetery.
I want to thank Walter's son, Lance, for providing this information and photo of his father.