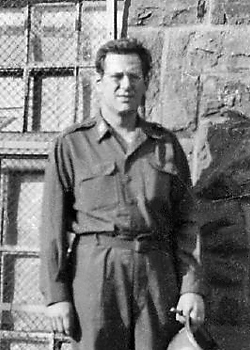 Alexander W. Magocsi
Biography: Alexander W. Magocsi, M.D., was born in New York City, New York, on June 14, 1916. He was the son of Stephen (Istvan) Magocsi and Hannah Grosz and attended Bryant High School, graduating in 1933. He continued his education at Columbia College and then Long Island College of Medicine, graduating in 1941.

Service Time: Alexander entered the service and was assigned to the Medical Corps., ultimately serving with the 630th Tank Destroyer Battalion. The 630th landed in France on July 24th, 1944, with the 28th Infantry Division. They supported operations against the Siegfried Line and then moved to the Hürtgen Forest before taking up positions in the Ardennes. The unit spent additional time south of Colmar and then in the Saar region, before assisting with the elimination of the Ruhr Pocket. Alexander left the service at the rank of Captain.

After returning to the U.S., Alexander continued his career as a Physician. He passed away on March 8, 2000, and was buried in the First Parish Cemetery, York, Maine.
I want to thank Alexander's son, Alex, for providing the information and photo for this tribute.