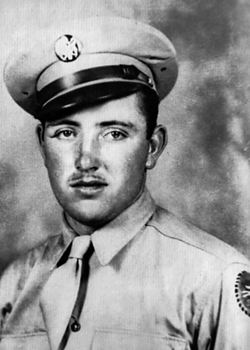 Harry M. McCoy
Biography: Harry Milton McCoy was born on October 4, 1923, in Baudette, Minnesota. He is the son of Charles A. McCoy and Esther E. Davison and left home at the age of 14 to find work. When Pearl Harbor was bombed, Harry was working at the Naval shipyards in California.
Service Time: Harry entered the service and was trained at Fort Hood, Texas, before shipping overseas and landing on Omaha Beach, on D-Day plus 9. He was assigned to Company C of the 802nd Tank Destroyer Battalion, who landed on July 1, 1944, with towed 3″ guns. They saw action 3 days later at Carentan. Harry served as a TD Commander for the unit.
The 802nd joined the attack on St. Malo and then traveled east into Luxembourg where they supported operations against the Siegfried Line. They participated in the Battle of the Bulge in late December and later converted to M36 tank destroyers in February and March of 1945. They continued moving east, crossing the Rhine River and joining the fight to eliminate the Ruhr Pocket before taking up occupational duties. Harry was in Germany for 6 months after the war ended and then returned to the U.S. to muster out at Camp McCoy, iWisconsin.
Harry made his residence in Motley, Minnesota, and married the former Neva M. Benson on November 15, 1946. She was the daughter of Rollin K. Benson and Ada Estelle Winslow and was born in Norfolk, Nebraska. Harry worked as a dairy farmer and beef rancher which filled his days with hard work. He did take time to start a family, having a son, Rex and a daughter, Jeanne. He is also a member of the National Farmers Association, the VFW, American Legion and Lions Club of Leader, MN.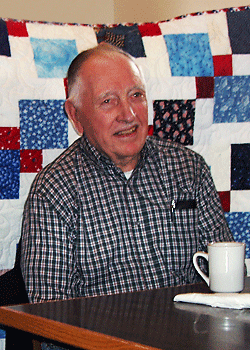 The photo on left was taken on April 17th, 2013, at the presentation of a Quilt of Valor from the Quilts of Valor Foundation.
I want to thank Harry's daughter, Jeanne, for supplying the photos and information about her father.