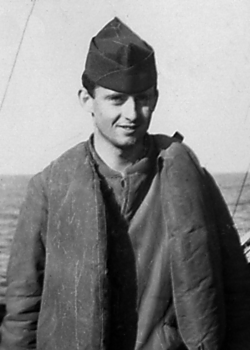 Biography: Donald Charles McCarthy was born on June 30, 1923, in Chicago, Illinois, to Charles W. and Vina Connors McCarthy.
Service Time: Donald entered the service in 1942 and was assigned to Third Platoon, A Company, of the 802 Tank Destroyer Battalion. The 802nd received credit for five campaigns including Normandy, Northern France, Rhineland, Ardennes-Alsace and Central Europe. Initially equipped with towed guns, they received M36's in early 1945. They saw action at Carentan prior to advancing into Brittany and supported the attack on St. Malo. After crossing France, they entered Luxembourg and supported actions against the Siegfried Line and then participated in the Battle of the Bulge in December.
Donald left the service in 1945, married Carolyn, and the couple went on to have three sons, Steven, Paul and Mark and two daughters, Clare and Jean. Donald went back to school and graduated, in 1950, from Loras College in Dubuque, Iowa, with a degree in history. He earned a master's degree in International Relations from Boston University in 1967. From the fall of 1951 to the spring of 1952, he served with the Catholic Worker Movement in Newburgh, New York. He also taught in the inner-city Chicago schools for several years, and beginning in 1957, had a 26 year career with the Department of Defense Dependents' Schools in Europe and East Africa. He served briefly as a teacher and then as a school administrator. He retired on August 1, 1986.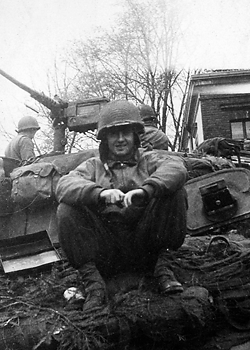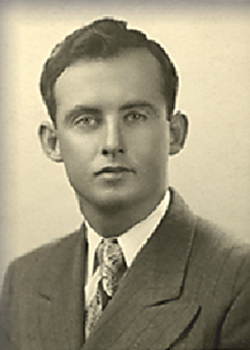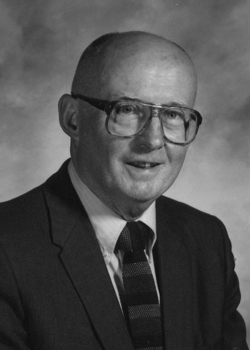 During his retirement, Donald was living in Broomfield, Colorado, and enjoyed traveling, aerobic walking, playing softball with the Boulder Olders, and volunteering at a soup kitchen in Denver, Colorado. He also wrote, and published in limited edition, a 650-page memoir. Donald passed away on July 1, 2013, in Broomfield. At the time of his death, he had seven grandchildren. He was buried at the Fort Logan National Cemetery in Denver.
The main photo was taken on the trip home from Europe in 1945. The photo to the left was taken in 1984, during his time with the Department of Defense School.
I want to thank Donald's son, Steven, for providing the materials for this tribute.