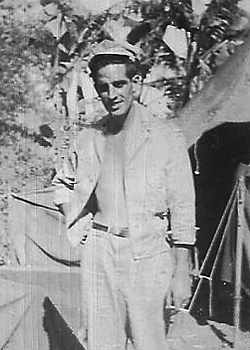 George W. Moore
Biography: George William Moore was born on August 8, 1922, in Cumberland, Maryland. He graduated from Fort Hill High School. On June 21, 1943, George married the former Mary Louise Knippenberg. She was the daughter of Edwin Frederick Knippenberg and Grace Wilson. She was also born in Cumberland. The couple remained in the area to start their new family.
Service Time: George entered the service on March 4, 1943, at Fort George G. Meade, MD. He received a Marksman rating for the carbine during his training. He was assigned to the 672nd Tank Destroyer Battalion, which was re-designated as the 672nd Amphibian Tractor Battalion and served in the South Pacific. The unit sailed from San Francisco on September 23, 1944, and landed at Bougainville Island, New Guinea, in October. They carried troops ashore during the assault landing in the Lingayen Gulf, Luzon, Philippines, and supported the 37th Infantry and 1st Cavalry in the drive to Manila. In February, 1945, the 672nd, attached to the 11th Airborne Division, captured the Los Banos Prisoner Camp and released the civilian internees.
They then moved to Morotia in June and carried troops ashore for the assault landing at Balikpapen Borneo, on July 1. They returned to the U.S., on December 24, 1945, receiving credit for two campaigns; the Northern Solomons and Luzon. They were recently recognized with a Presidential Unit Citation for the Los Banos rescue. George received the American Campaign Medal, Asiatic-Pacific Theater Medal, Philippine Liberation Medal and the Good Conduct Medal. He left the service at the rank of Technician 5th Grade.
George returned home and attended Marietta University, graduating in 1952. He then went to work for North American Aviation. The couple had seven children, Dennis, Michael, Steven, William, Tracy, Colin and Hollis. George passed away on April 6, 1993, and was buried in the Rocky Gap Veterans Cemetery in Cumberland, MD.
I want to thank George's son, Steve, for providing the information and photo of his dad.