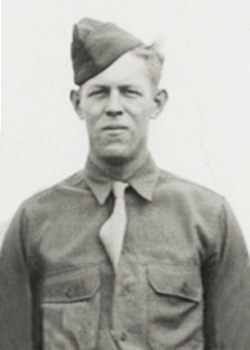 Carl B. Mellinger
Biography:  Carl Benjamin Mellinger was born on October 3, 1922, in Lancaster, Pennsylvania.  He was the son of Harry Mellinger and Blanche Smoker and attended the J.P. McCaskey High School.  After leaving school, he was self-employed as a roofer.
On October 17, 1942, Carl married the former Mary Elizabeth Shank, in Bel Air, Maryland.  She was the daughter of Charles Shank and Mabel Gertrude Boerger.  Mary was born in Lancaster also.
Service Time:  Carl entered the service on January 7, 1943, at New Cumberland, PA. He was assigned to Headquarters Company of the 817th Tank Destroyer Battalion.  His military occupation was light truck driver and he worked in the transportation section of the company. The unit was equipped with towed, 3″ guns and initially took up rear-area security duties in France and Belgium.  In December of 1944, they entered battle in the Hürtgen Forest.  They moved into the Ardennes in February and then back to the Roer River area to provide artillery fire.  In mid-March, the unit moved toward the Rhine, and were the only towed TD battalion to cross at Remagen.  They converted to M18's before joining the 104th Infantry Division at the Ruhr Pocket.  Portions of the unit drove eastward to fight in the Harz Mountains and helped capture Halle, Germany, before stopping at the Mulde River.
The 817th received credit for the campaigns of Northern France, Rhineland and Central Europe.  Carl was discharged on December 6, 1945, at Indiantown Gap, PA.  He had reached the rank of Pfc and received the Good Conduct Medal, the EAME Medal, WWII Victory Medal and the American Campaign Medal.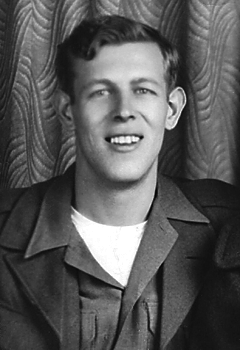 Carl returned to Lancaster and civilian life.  He also returned to see his first child, Carl Jr., born in 1944. They had a second son, Harry, born in 1947.  Both boys would follow their dad by serving in the military.  Carl and Harry served during the Vietnam War with the USMC.  The family was devastated when they were notified that Carl Jr. had been killed-in-action, July 2, 1968.
Carl worked as a roofer in the Lancaster area and later worked as a security guard at the Park City Shopping Mall.  In his spare time, he enjoyed fishing and hunting and playing pinochle.  Carl passed away on February 6, 1982, and was buried in the Veteran's Section of the Conestoga Memorial Park, Lancaster, PA.
The photo at left shows an early image of Carl, while the photo below shows Carl and his wife during their later years.  I want to thank Carl's daughter-in-law, Diana, for providing the information and photos for this tribute.