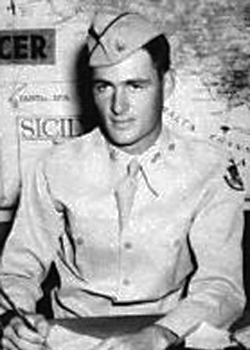 Robert C. McDonald Jr.
Biography: Robert "Bob" Clarence McDonald Jr. was born April 14, 1914, at Fort Kamehameha, Honolulu, Hawaii, to Robert C. and Olive E. McDonald. Bob's father was an Army Medical Captain and the family moved many times during his early life. He decided to follow his grandfather's career path and attend West Point, receiving an appointment in June, 1931.
Service Time: Bob chose Field Artillery upon graduation and his first assignment was with the 24th Field Artillery (Philippine Scouts) at Fort Stotsenburg, Philippine Islands. While there, he met and married Jean Shufelt who was the daughter of James V. V. Shufelt and Edith Knapp. Over the years prior to WWII, he served various tours of duty at Ft. Sill, Oklahoma, where his first son, James, was born. Next was Ft. Benning, Georgia, Ft. Ethan Allen, Vermont and Camp Blanding, Florida.
Bob was sent to Camp Robinson, Arkansas, in 1942, and assigned to the 808th Tank Destroyer Battalion, where he was soon promoted to Lt. Colonel and became the commander of the unit. The 808th trained at Camps Bowie and Hood, Texas, Camp Phillips, Kansas and Camp McCoy, Wisconsin, followed by overseas shipment to Liverpool, England. They soon moved to Utah Beach in Normandy, France, landing in September and becoming attached to the 80th Infantry Division. During combat, they were also attached to the 76th and 65th ID's. They ended the war in Linz, Austria.
The 808th was disbanded when they returned to the U.S. and Bob attended Cal Tech and USC, in California, earning a master's degree in mechanical engineering. His son John was born during this time.
His military career continued with assignments to Ft. Bliss, TX, back to the Philippines for three years, a tour in the Pentagon, three years in Europe and his final tour with the Air Defense School, at Ft. Bliss. In 1963, he retired from the Army.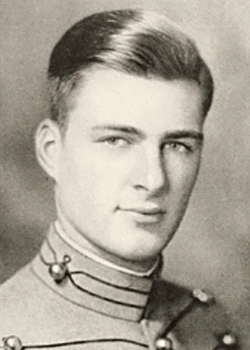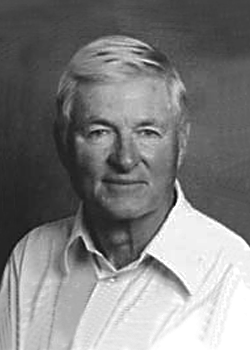 Bob was later an instructor at the University of Texas in El Paso, working in the Math Department. He married Helen E. Smith in 1976, and they enjoyed traveling around the country in an RV. He also enjoyed hunting, fishing, golf and spending time with his grandsons in the desert. Bob and Helen then moved to Sierra Vista, Arizona, in 1991, and Oceanside, CA in 1998. His last residence was at Air Force Village West, in Riverside, CA.
Bob passed away on January 20, 2000, and was buried at the Riverside National Cemetery, Riverside, CA.
We would like to thank 808th.com for the use of the main photo for this tribute and the West Point Military Academy for providing most of the above information through an obituary for Robert. The West Point photo is used by permission, of Digital Data Online, Inc. and E-Yearbook.com.