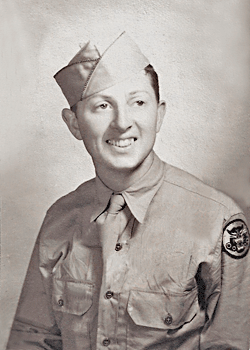 Frank J. Mackey, Jr.
Biography: Frank J. Mackey, Jr. was born on April 13, 1925, in Sayre, Oklahoma. He was the son of Mr. and Mrs. Frank J. Mackey Sr. and attended local schools through the 11th Grade. He worked as a carpenter's apprentice prior to the war.
Service Time: Frank entered the service on July 19, 1943, and was assigned to Company B of the 807th Tank Destroyer Battalion. The unit shipped out from the New York port on August 11, 1944, and arrived in Liverpool, England, on the 22nd. Less than a month later, they set foot on the Normandy Beaches in France. They initially saw action in the Metz Sector for the next three months before advancing and attacking toward Saarlauten, from November through December.
In January, they battled the German Norwind Offensive before shifting north to join the drive to the Rhine River, through March, 1945. They defended the Rhine River bridges for the next month, then converted to the M18 and joined the drive through Bavaria. By May, the 807th had reached Salzburg, Austria.
Frank was affectionately know as "One shot Mackey", and had proven himself to be a Sharpshooter within the unit. He left the service at the rank of Technician 5th Grade.

He returned to the U.S. and went about continuing his education. He graduated from Oklahoma Baptist University in 1955 with a Bachelor's Degree and then, in 1959, he graduated from Southwestern Baptist Theological Seminary with a Bachelor of Divinity Degree.
Frank married and he and his wife, Helen, had seven children, four girls and three boys. He served as an Evangelist and Pastor in Oklahoma and continued his ministry in the Portland, Oregon, area. In May of 2013, Frank was invited to see the WWII Monument, in Washington D.C., as part of the Honor Flight program. The event was very memorable and a highlight of his last few years.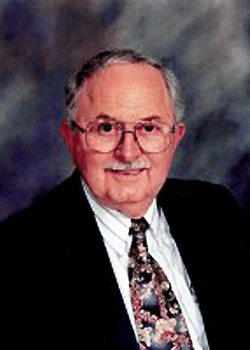 Frank passed away on February 24, 2015, and was laid to rest in the Willamette National Cemetery in Portland, Oregon. I want to thank Frank's daughter, Sheila, for providing the information and photos used in this tribute.