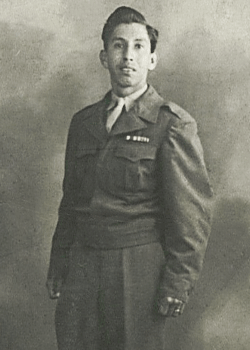 Victor Medina
Biography: Victor Medina was born on February 18, 1918, in Eagle Lake, Texas. He was the son of Victoriano Medina and Modesta Castillo and attended Catholic school while living in the Barbarosa area of Texas. He left school at an early age to work in the cotton fields to help support his family. When he was older, Victor joined the CCC (Civilian Conservation Corps) and was involved in a number of projects within Texas.
On September 21, 1941, Victor married the former Maria Magdelena Gonzales. She was the daughter of Augustine and Augustina Gonzales and was born in San Marcos, Texas. The couple made their home in New Braunfels, Texas.
Service Time: Victor entered the service on December 29, 1942, at Fort Sam Houston, Texas, and was assigned to C Company of the 823rd Tank Destroyer Battalion. During training, he qualified as a Sharpshooter with the rifle. The unit shipped out on April 7, 1944, arriving in England on the 11th, and then in France, on June 24th. The 823rd was equipped with 3″ towed guns and was initially commited to the drive on St. Lô, before fighting at Mortain in August.
Throughout the month of July, the unit was providing both direct and indirect fire on targets in Northern France. On July 31st, Victor and one other soldier received shrapnel injuries. He was evacuated to a hospital ship for treatment.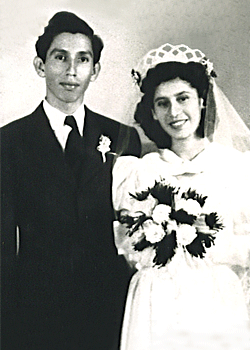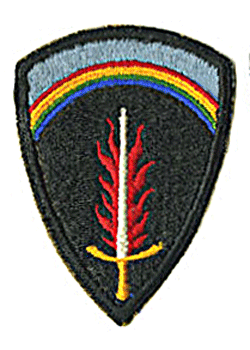 Victor's war would not end there. He was assigned to SHAEF (Supreme Headquarters Allied Expeditionary Forces) as a guard. You can see the SHAEF patch above right. On April 26, 1945, SHAEF moved to Frankfurt, Germany, and he finished out his service time, returning to the U.S. on October 16, 1945. He left the service at Fort Sam Houston at the rank of Private First Class and received the EAME Medal with Campaign Stars for both Normandy and Northern France, the American Campaign Medal, WWII Victory Medal and Army of Occupation Medal for Germany. He also received the Good Conduct Medal and Purple Heart.
Victor returned to New Braunfels and found work with the Comal County Road Department. He also worked doing custodial and nurses-aid jobs. He and Maria had five boys and four girls and in his few moments of free time, he enjoyed fishing. Although not a true hobby, Victor loved to sing and was also a member of the Disabled American Veterans organization.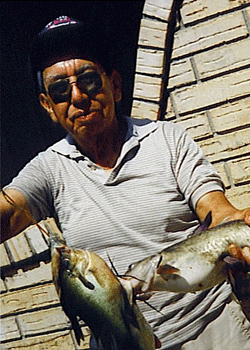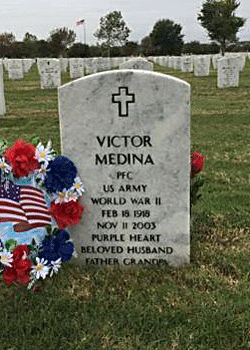 Victor passed away on November 11, 2003, and was buried in the Fort Sam Houston National Cemetery. I want to thank Victor's son, Herman, for providing the materials for this tribute.
Curiously, Victor wasn't the only soldier from New Braunfels to serve in C Company of the 823rd. Hilmar W. Klein also served there and the Medina family would be very interested in locating Hilmar, or his family.