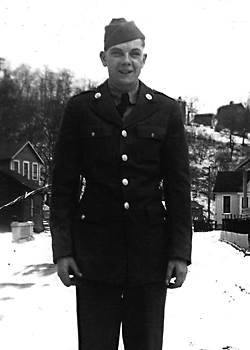 Charles C. Moore
Biography: Charles Calvin Moore was born on November 11, 1922, in Ford City, Pennsylvania. He was the son of Charles E. Moore and Mable Grim. He attended public school until the 9th grade when he left to help support his family. He worked as a tow truck driver and other odd jobs in and around Apollo, Pennsylvania.
Service Time: Charles enlisted on December 29, 1941, at Pittsburgh, Pennsylvania. After basic training, he was assigned to Company B of the 601st Tank Destroyer Battalion and was with them in Camp Blanding, Florida. He was initially a general duty soldier but by the time the 601st made their way to the staging town of Indiantown Gap, Pennsylvania, Charles was a trained cannoneer. Company B and the entire 601st embarked along with the entire 1st Infantry Division aboard the Queen Mary. This was the first time in U.S. military history that an entire division was transported on a single ship. They arrived in Scotland on August 9th and were transferred by train to Tidsworth, England.
Company B missed it's landing in Tunisia and mistakenly landed in Algiers. They immediately reembarked and headed to Tunisia. They saw action at the Kasserine Pass in February, 1943, and then at El Guettar in March. Pfc Charles Moore was transferred to Company A, on April 2, 1943, and took the new position of gunner. They converted from the M3 to the M10 tank destroyer, before leaving Africa, and then took part in the invasion of Italy, at Salerno. Companies A and B took part in a pivotal operation attached to Darby's Rangers, in which the two companies were awarded their second Distinguished Unit Citation.
They continued the assault at Anzio and in February of 1944, Charles was on one of three tank destroyers assigned to the 509th Parachute Infantry Battalion. His TD was attached to Company B of the 509th and took part in artillery support during the ill-fated attack on February 29, 1944, when Company B 509th PIB was forced into hand to hand combat and overrun by the attacking German forces at Carano, Italy. He returned to his normal duties for the breakout at Anzio and entered Rome in June. In July, 1944, he was transferred to Company A of the 804th Tank Destroyer Battalion and remained with them until his departure from Italy, in March 1945.
Charles received credit for 5 campaigns including, Algeria/French Morocco, Tunisia, Sicily, Naples/Foggia, and Rome Arno from his time with the 601st. He received credit for the North Apennines while with the 804th. He reached the rank of Private First Class and was honorably discharged on July 3, 1945, at Fort Dix, New Jersey.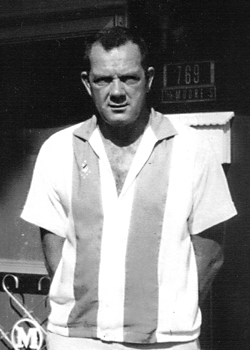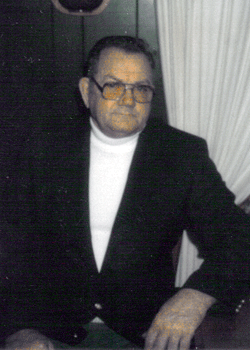 After the war, Charles married Veronica Saltis but the marriage would soon end. He then married Stella Patrick and had one daughter, Linda. He reenlisted on September 25, 1947, and served for three more years as a military policeman in the 226th Military Police Company, stationed in Guam. He married for a third time to Veronica Cerutti and had three children, Kristine, John, and Daniel.
Charles and his family moved to NW Indiana in the early 50's where he worked at Inland Steel for over 25 years. He suffered a severe heart attack which forced his retirement. Over the years, he enjoyed watching his sons play sports and other activities but of all of his passions, his favorite was working in his garden. He had divorced and married Sara Agnes Moore and moved to Princeton, Kentucky, where he passed away on December 19, 1985. He was buried at Princeton Memorial Gardens in Princeton, Kentucky.
I want to thank Charles' son, Daniel, for providing the text and photos for this tribute.