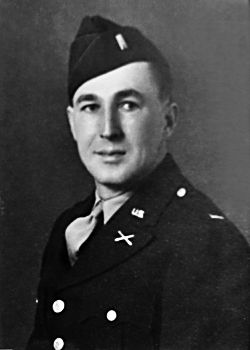 William E. McKinley
Biography: William Edward McKinley, "Bill" was born on February 2, 1914, in Vermillion, Huron County, Ohio. He was the son of Elza John McKinley and Emma Celia Boyd and attended Hayesville High School, graduating in 1932. While at Hayesville, he captained the baseball team and later pitched for the Ashland Flyers, a semi-pro team.
Bill operated a meat market in Hayesville and was later employed by the Ohio Highway Department for a year, to assist with a traffic survey. He then worked as a salesman for the F.E. Myers and Bro. Company, which manufactured pumps.
On June 15, 1941, Bill married the former Eva Pauline Clutter, who was the daughter of Jay William Clutter and Cora M. Arrington.
Service Time: Bill entered the service on March 25, 1942, at Fort Hayes in Columbus, Ohio. He was chosen to attend Officer Candidate School and graduated in October, receiving his commission as a Second Lieutenant at Camp Hood, Texas. He was assigned to the 814th Tank Destroyer Battalion and shipped out with them from the Boston port on February 15, 1944. He was promoted to First Lieutenant and then to Captain just prior to the unit's landing in France on August 8th.
The 814th was equipped with M10 TDs (tank destroyers) and raced across France in August, participating in the fighting around Metz in September. They were transferred to the Peel Marshes in Holland in late September. The unit was re-equipping with M36 TDs during October and attached the the 7th Armored Division. On October 28th, Captain McKinley was commanding Company B, as part of Task Force Chappuis. After Action Reports identify that the First Platoon Leader received a report that one of the remaining M10 crews had been forced from their TD. Between 1200 and 1230 hours, three heavy artillery concentrations hit the B Company Command Post. During the third group of hits, Captain William E. McKinley was seriously wounded and his M20 crew (three men) were slightly wounded. The unit history identifies that Captain McKinley was standing in his M20 Armored Car when it was hit. The area was identified as the Asten/Meijel road, west of Achtermijterbaan.
Bill along with the other men were evacuated immediately to a field hospital in Holland. Bill was moved to a hospital in France for further treatment, but died of his wounds on November 7, 1944. His wife, who was living with her parents at the time, was notified of his death by telegraph, only days after receiving a letter from him, dated October 26th. His body was brought home and he was buried in the Vermillion Cemetery, Hayesville, Ohio.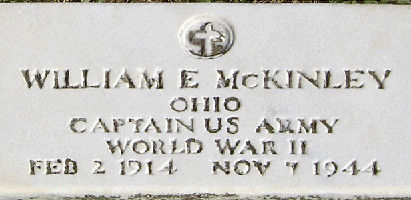 The McKinley family remembers Bill as being a natural born leader who was respected by the men he commanded and earned praise from the officers he served with.
I want to thank Gerard Jeuken of the Netherlands for providing the information and photos for this tribute. The injuries to Captain McKinley and his crew took place in front of Gerard's father's farm, now Achtermijterbaan street, Asten, Holland.