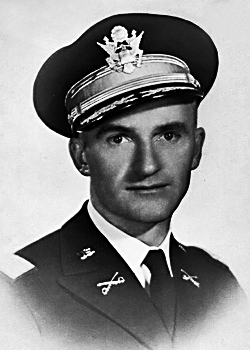 John G. Minniece Jr.
Biography: John Gresham Minniece Jr., who went by "Joe", was born on February 2, 1908, in Meridian, Mississippi. He was the son of John G. and Mary Minniece and after graduating from high school, he went to Mississippi A & M, later known as Mississippi State. He then attended West Point Military Academy, graduating in 1929. While there, he was known for his love of horses which led him to select the Cavalry. He was considered an academic but also received high marks with the rifle and pistol.
Service Time: Joe was assigned to the Air Corps at Brooks Field, Texas. He then joined the 1st Cavalry at Fort D. A. Russell and while stationed there in 1932, he married the former Laura Mitchell of Marfa, Texas. She was the daughter of William Burton Mitchell and Martha Pope "Mattie" McKie.
That same year, he was assigned to the Cavalry School and after completion of the Troop Officers' Course, he was selected for the Advanced Equitation Course. Joe completed each of the courses at the Cavalry School and was moved to the Remount Service, and served at The Remount Depots at Fort Robinson, Nebraska, and Fort Royal, Virginia. In 1941 Joe was assigned to the 5th Cavalry at Fort Bliss, Texas, and was once again stationed at Fort D. A. Russell, when a portion of the 5th moved there during the same year.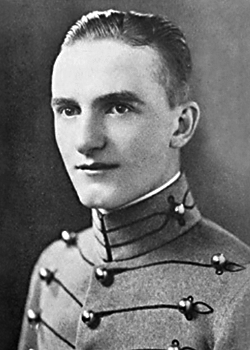 On January 29, 1943, he assumed command the 603rd Tank Destroyer Battalion while the unit was stationed at Camp Hood, Texas. In October of 1943, they were issued the new T70 (M18) tank destroyer and trained with them until they shipped from the New York port on April 11, 1944. They arrived at Cannock, England, on April 18, 1944, and three months later landed on Utah Beach in Normandy, France. They were committed to battle on July 28th, during the Cobra breakout, and then advanced through Brittany to Brest and on to Lorient during August.
The unit was attached to the 6th Armored Division, as part of Combat Command A, during its advance to Brest. Lt. Col. John G. Minniece was wounded on August 1st and sent to a hospital for treatment. He requested, and received, permission to return to his unit. The next week, he was killed in the camp area by a soldier from an adjacent unit. He died of his wounds on August 9, 1944, and his death was attributed to the dangers of nighttime movements and the act of a nervous soldier.
Joe was buried in the Brittany American Cemetery in St. James, France, Plot K, Row 5, Grave 19. He received the Purple Heart and the Bronze Star. Joe was fondly remembered as a soldier who was greatly respected by all who served with him and that he was known to handle all difficulties in the same quiet, efficient and calm way.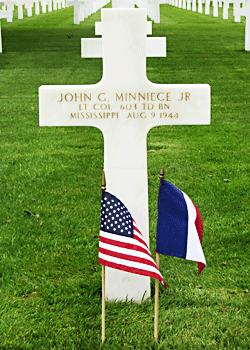 At the time of his death, Joe's brothers, Thomas and Houston, were both serving in the military. His sister, Mary, was also married to an Officer.
Thank you to the personnel at the Brittany American Cemetery for the photo of Joe's grave marker. The West Point photo is used by permission of Digital Data Online, Inc. and E-Yearbook.com. A portion of the information was obtained from the West Point Association of Graduates Memorial page.